The demand for coworking space has become evident in Nashville, where the cost to lease space estimated between $29-$40 per square foot. While many small, independent self-employed business owners consider local coffee shops as their client meeting place, it is coworking spaces that have adequately replaced the option of more expensive offices. Many businesses today don't want the overhead cost of a physical space, but still need an official venue to meet clients, do zoom calls, host meetings on occasion, or just do work that can't be done at home. The coworking option has become the norm for many freelancers and entrepreneurs.
Details on the history of coworking spaces vary, but the first coworking space may have been founded in Berlin in the '90s by programmers to share skills and practices. The idea is to pay a monthly or yearly membership fee that includes a comfortable corporate space with utilities, equipment, internet, and privacy as needed. Over the years, Nashville has seen a number of coworking spaces spring up around town. WeWork, WELD Nashville, Industrious Nashville, Center 615, the Nashville Entrepreneur Center, Deavor (now Eleven Willow), and Espaces are just a few of the well-known options available.
Entrepreneur and wedding photographer Kathy Thomas came to Nashville in 2017. She had hopes of finding a coworking space that she could connect with, that would reflect her brand, and that would help her feel inspired. After bouncing around to a few different places, she felt what Nashville needed was a coworking space geared more toward the needs of women.
Kathy tells Launch Engine, "When I went into coffee shops, I saw a plethora of women working all day long. And I thought, they must not have a place they can call their own where they feel connected and inspired. I learned in my research that Nashville is one of the fastest-growing cities for female entrepreneurs in the country."
Most coworking spaces tend to have more male members and offer a more masculine design that feels corporate, industrial, or even raw. With this in mind, Kathy began looking for a location where she could design her own coworking space by women and for women. She wanted a space where she could feel connected to other women entrepreneurs. She wanted a feeling of community. After doing some research, she discovered that other females felt the same.
Kathy says,"When I came to Nashville, I tried a few different spaces but didn't feel they met my overall brand—I felt something was missing. Being in the premium wedding industry, I needed something that met my void of privacy and femininity. I had always planned on opening a coworking space of sorts, but I figured it would be a much more intimate, smaller group of like-minded and similar [groups] of businesses."
Kathy's goal was to design a comfortable space with easy access to parking, food, fitness, and shopping. After searching around in different parts of Nashville, she stumbled across the perfect mix at the newly renovated L&L Marketplace, off of Charlotte Pike near downtown. Built in 1929, the building was once a hosiery factory called Se-Ling Hosiery Mill.
Kathy recalls, "As time passed, I realized there was a huge void in an environment that was more female-centric, not only from the [typical coworking space], but from what it offered. I wanted an ecosystem that made life feel better for women-owned businesses. I started searching for a safe place with easy parking—dense locations with easy access to fitness, wellness, restaurants, shopping, and healthcare, so it would be easy to run out and take care of things within close proximity. L & L Marketplace was a perfect fit."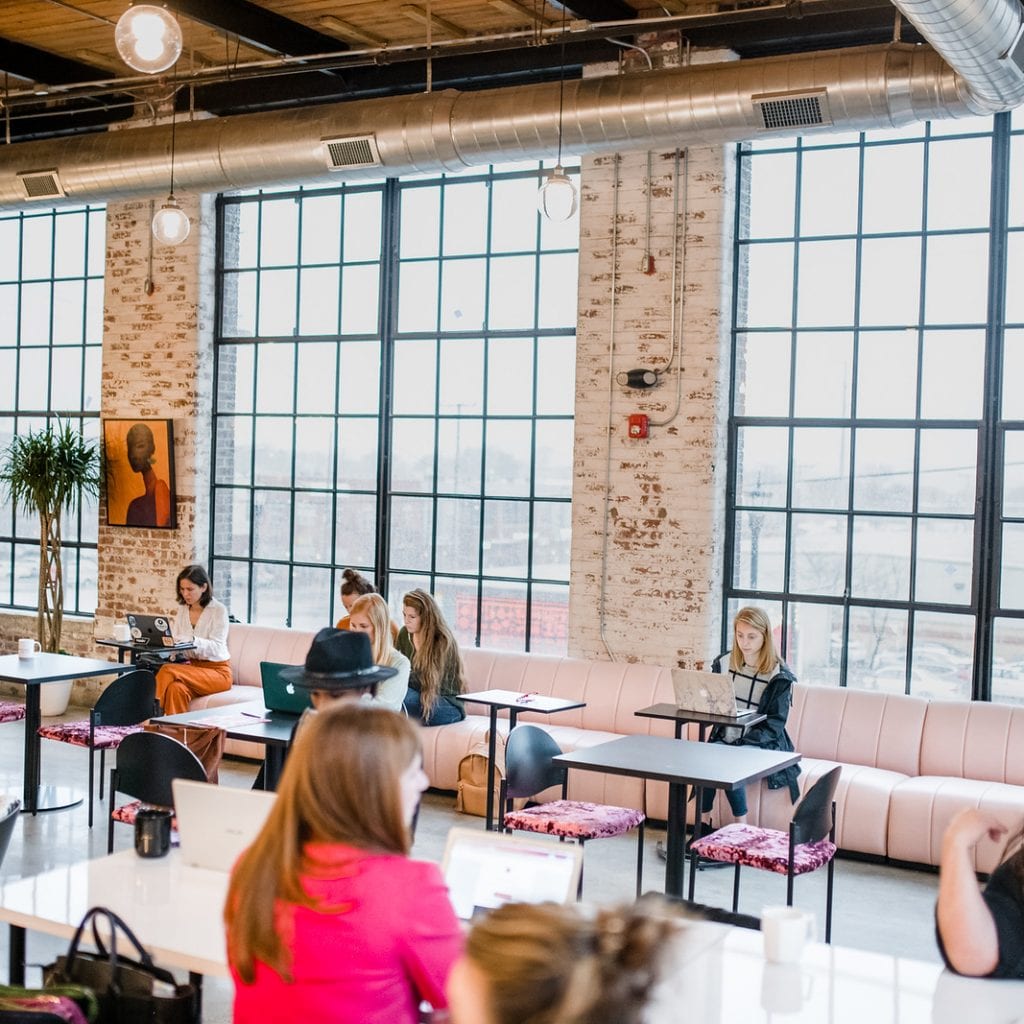 Once Kathy signed the lease, she did some crowdfunding in order to raise the capital for the buildout through IFundWomen. She was excited to find that women started signing up right away. The money she was able to raise through these secured memberships allowed her to cover the cost for the buildout of the space. She was able to open the doors of her new woman-driven, coworking space with 69 members—all before the space even had furniture! 
"Originally," Kathy explains, "I secured a small space, but once we had 30 members, I decided we needed more capacity. So I expanded the space to what we now have today."
The female-friendly, 3800 sq. foot, two-story space showcases the original old brick walls, tall ceilings, and massive windows, offering a beautiful view of sunsets from the second floor—as well as plenty of natural light. There are multiple breakout rooms (smaller rooms for individuals within a meeting to convene), meeting rooms, phone booth rooms, lounge areas, a cafe-kitchen, and an outdoor patio area. Kathy chose feminine colors and furniture design, using white, emerald green, and light rose colors to compliment the light. In addition, she chose airy, whitewashed brick walls and stained concrete floors. The result is a beautiful, inviting, and comfortable workspace that is absolutely exquisite. The downstairs area is the quiet space that she refers to as the "GSD (Get Shit Done) level." It has a direct entrance from outside.
Kathy's business model also included educational classes, workshops, and events for her members, but that other women could attend for a fee. Kathy chose women only because she felt everything in town catered to a male audience. In addition, she knew she felt more energized when collaborating with other women entrepreneurs.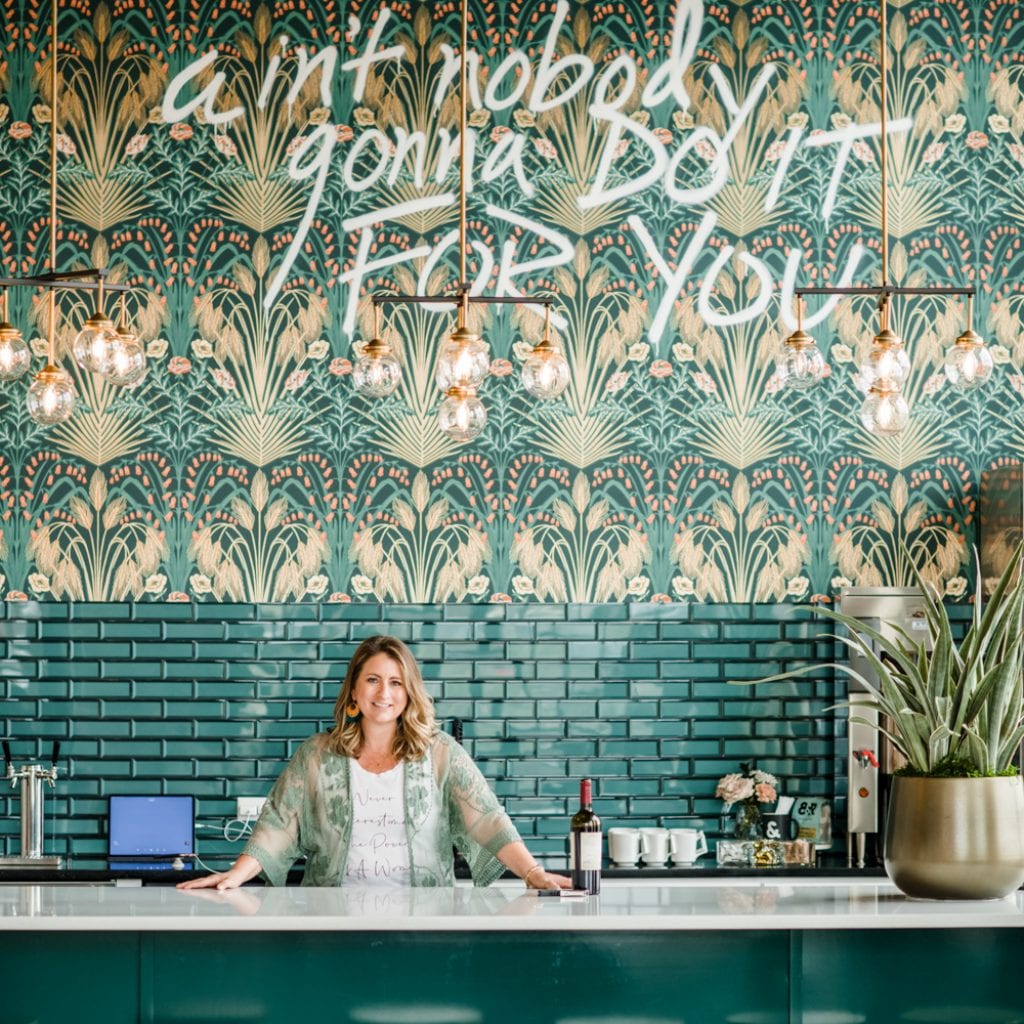 Kathy offers that, "Working from home for me is not a benefit. I love my home being my home and my work space being work. I wanted to be around women who were juggling the same things as I was, being a working mom, being a business owner, caring about my health, wellness, marriage, and educating myself constantly. All of the other spaces felt like an office with obstacles or I felt alone and secluded."
While the overall design is definitely feminine, there have been men who have asked why the space is for women only. Kathy feels Nashville is ready for what she has developed and has no intention of allowing male members. There are some other female coworking spaces, but they are in the private sector.
She says, "We are very inclusive. Men can come into our space for meetings with a member or they can rent event space or meeting rooms. But they cannot use the common areas of the coworking space. Those areas are reserved for our women members."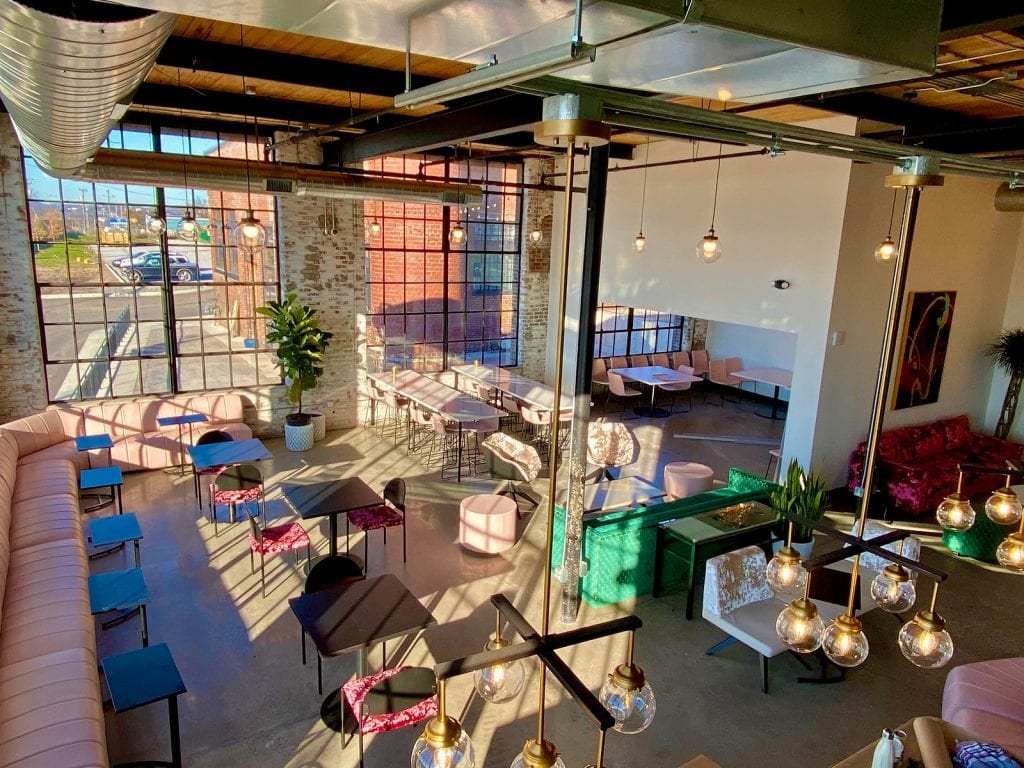 COVID-19 originally offered a challenge to Collective615 because their grand opening was the first week of February and they had to close six weeks later when the city went into lockdown. They immediately started doing online training, education, and community online events for their members. 
Kathy explains, "We were closed for two months due to COVID. When we entered into Phase One, we allowed our members to come in on off hours, on the weekends, and at night time in waves to work around other members schedules as a thank you for maintaining their memberships. It has been absolutely wonderful since we reopened. Our members have been locked up at home with the kids, their spouse, or with roommates, struggling to find balance within their home workspace. We found they were hungry for community and ready to come back to Collective615."
Kathy says that because of the size of their space, it is easy to follow CDC guidelines. For this reason, they have had no issues opening back up to the public. She has seen a 30 percent increase in memberships since reopening, and she attributes that to people wanting to be out in a social environment and away from their homes.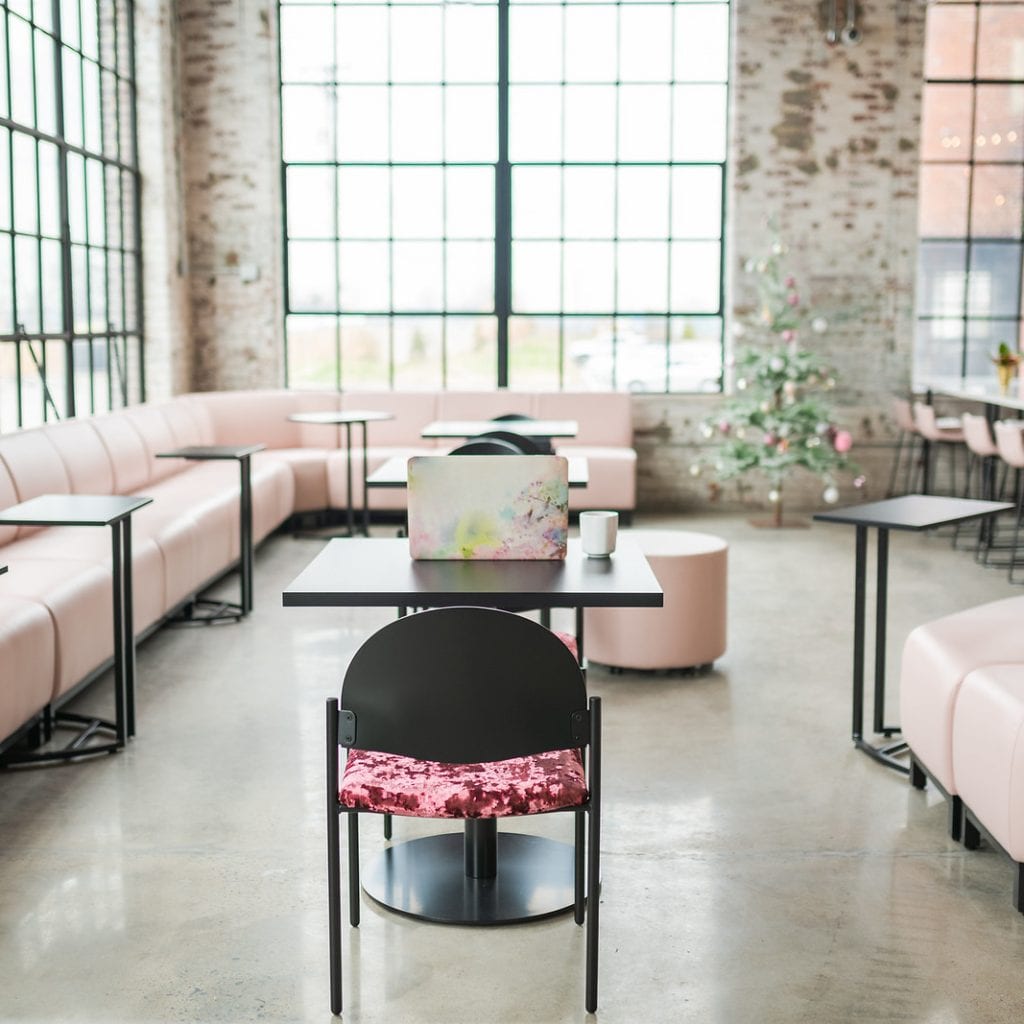 Kathy says that having the large space and offering rental space for events and small gatherings after normal business hours and on the weekends has also helped with regards to the pandemic. They have done very well renting space for events like baby showers, engagement parties, gender reveals, intimate weddings, corporate meetings, and mini-team retreats. Kathy also offers the space for photo and video shoots.
Of the media-making ventures in the space, Kathy says, "We have had photographers rent the space to shoot headshots and product photography. We have had video crews film music videos here and corporate people rent to shoot their campaigns. All of these have been a huge contribution to our success through COVID this year."
Kathy says the business has done so well she has been able to create a new position. She has hired someone to run the events and manage the space rental because there is such a high demand. They have ample free parking, a kitchen, and catering is available at the location—but they also allow outside catering.
The building access for members runs from 6 a.m. to Midnight, Monday through Friday, and they can come and go as needed. Collective615 continues to offer networking events, education, and other streaming opportunities for their members to educate and help them gain revenue. Community, connection, and networking among the members is a big part of Kathy's business model. To that point, a member recently acknowledged that she tripled her annual membership investment by gaining new business from among the Collective615 member community.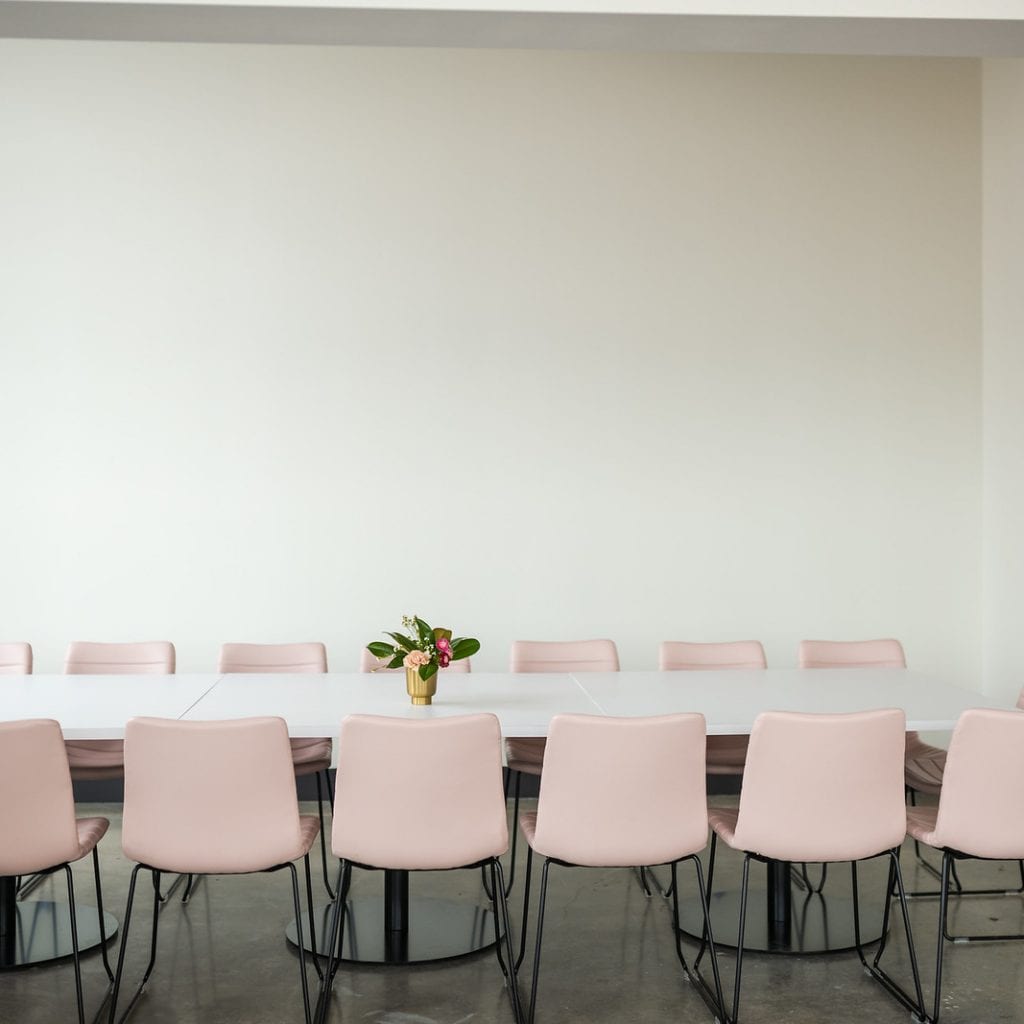 Kathy explains, "We have a lot of business to business taking place here. And I think it is because we have such a vast variety of talent among our members. We have lawyers, singer songwriters, photographers, [public relations], and marketing companies, non-profits, mental health, dietitians, wealth management, wedding and event planners, a jewelry maker, a bank marketing director, bag designers, influencers, music producers and a full production company. Our members are extremely diverse, and it is great because when they are having coffee, they may strike up a conversation and network among each other."
In the future when larger events can take place, Kathy plans to host more educational events, and collaborate with other female-centric companies. She also plans to roll out a women's scholarship opportunity and a give back program. She states, "We really want to empower more women through collaboration and opportunity. We want to offer retreats and have global speakers with larger audiences."
Kathy adds that they are searching for a possible additional location in the city that will follow this same business model. Collective615 connects with other women's groups in the area. They use social media marketing to grow their membership with Instagram, through the events they offer for women, and from word of mouth through their members.
For further information about Collective615—including their event calendar, membership opportunities, and event space availability—be sure to visit their website and social media.