Doing business on the internet can be a great experience. It can also be a lousy one, particularly if you're a small business trying to deliver a sales message in a business environment that seems overrun by questionable business practices. With fake followers and bought-and-paid-for reviews complicating the marketplace, how can a small business hope to compete? Businesses in years past relied on being part of the community, interacting with their customers face-to-face, and building their reputations and businesses accordingly based on these interactions.
From their AngelList profile, Nodat might be the right marketing company for small businesses to partner with so as to grow in this complicated business environment. Nodat defines itself as "a de-centralized engagement-based loyalty coalition SaaS [software-as-a-service] platform." The early-stage marketing-technology (martec) startup company is designed to take "the complexity and unpredictable expense out of marketing and finally put the power into the hands of small businesses."
Initially founded as a video review application, Nodat falls into the category of mobile marketing, which is a part of digital marketing strategies (Editor's Note: These marketing terms should not be used interchangeably). Nodat has approximately 1200 local businesses and 11,000+ registered users associated with the platform with over 25,000 downloads. Nodat comes to the marketplace after winning a Google for Startups scholarship and later graduating from both the Nashville Entrepreneur Center's (NEC) 2018 InFlight program and Founder Gym. The Nodat team has two decades of experience in retaining customers from past work at AT&T and Plenti Loyalty.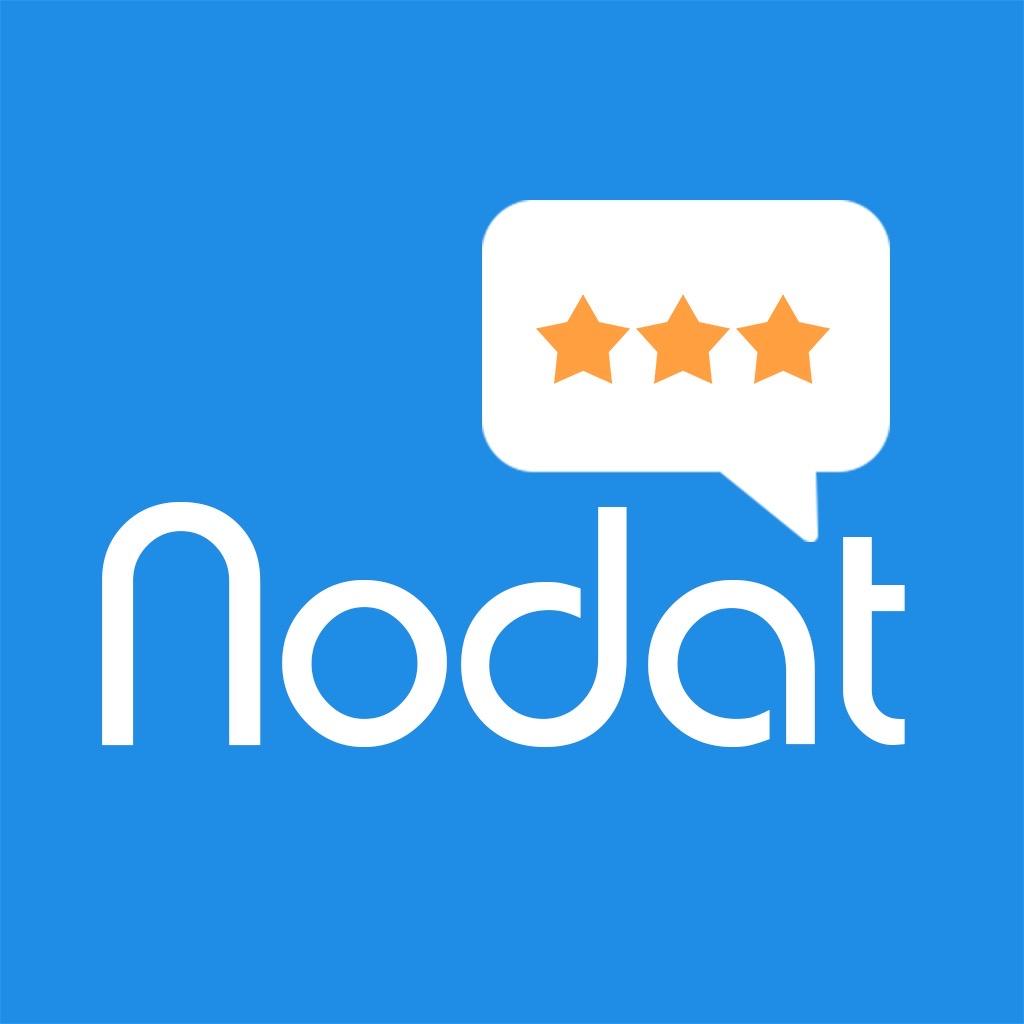 Nodat Founder and CEO Aireka Harvell, who also co-founded the NEC Twende Summit for minority entrepreneurs—was a participant of the 2020 Beta Boom Women's Startup Academy cohort, where she won the final pitch competition and secured $55,000 of investment capital. Though she is a first-time entrepreneur herself, Aireka brings a marketing experience with her that's helped Nodat grow.

"I started the company in 2017 while working at AT&Tin the loyalty and retention [department]," Aireka tells Launch Engine.  "I was a team lead, which is basically an assistant manager over 180 loyalty and retention agents."
Aireka explains that she got the idea to build Nodat in 2016, and began developing the app during her last year at AT&T in 2017. The idea came to her following an incident where she felt that she had a lack of information about incoming Nashville businesses. (That year saw a surge in businesses moving to Music City.) Aireka recalls that her son asked her about going to a water park, and his friends teased him via social media about not getting to go to the water park during its last day of the season. After becoming upset that she missed a chance to go to the water park with her children, Aireka called around to her friends, asking if they knew about the water park. It was then that she noticed a pattern. She was part of a group of consumers who were somehow unaware of what was going on in their community.
Aireka says, "I asked them, 'Hey, why didn't you share a video or something on social media and say, 'Hey, there's a new water park!' so that other people could take their kids?' And so, I started thinking it would be really cool if there was [an] app that rewarded locals for sharing their experiences on social media, and actually helping the small business promote? That's where the idea for Nodat came from."
Aireka understands her business as one of "actions-based, community marketing." She explains that the name "Nodat" is a play on words that explains how the business helps other businesses and consumers. Simply stated, it helps users share information locally to "know that" (Nodat) businesses are opening or running specials. After building the platform during her last year at AT&T as a side gig, Aireka says that the 10,000 downloads came "fairly quickly" to Nodat.
She says, "When we realized that this was a real opportunity—that small businesses were not just looking for platforms to help them get customers. They didn't know how to retain those customers—and that was their biggest concern."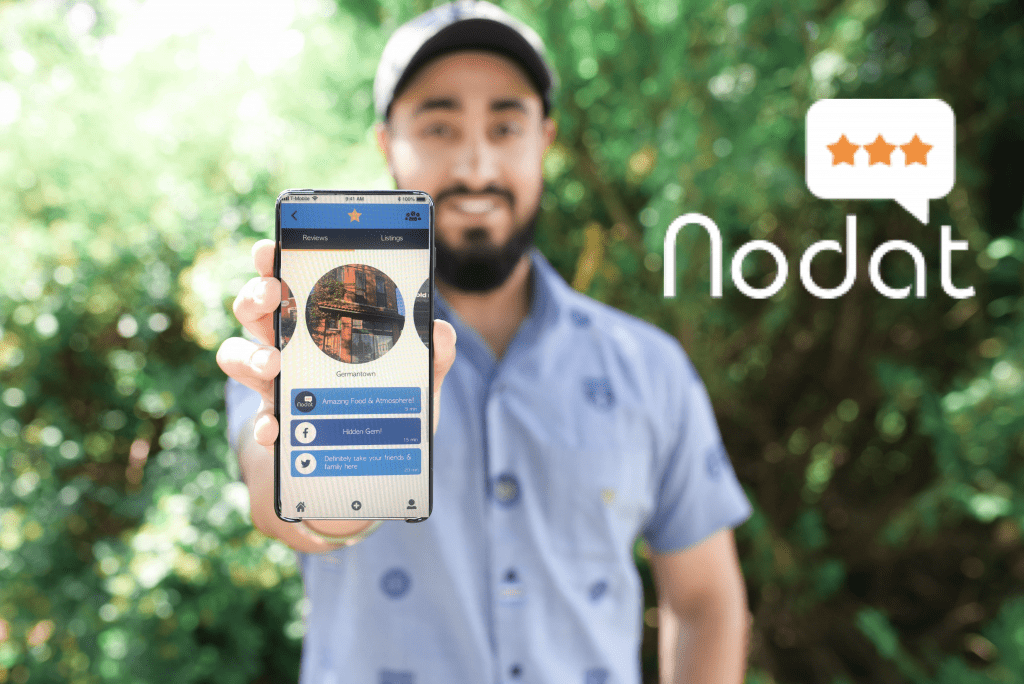 Aireka states that customer retention is an equation with a few variables. Many small businesses have to do their own marketing, and many entrepreneurs don't have the know-how to make their marketing work for them. She says that the majority of small businesses she encounters at Nodat have previously relied on Yelp and Groupon, two marketing platforms whose business models have been criticized in the past.
"There's this love-hate relationship with Yelp and small businesses. Yelp was helping them attract customers, but there was no retention marketing on Yelp—and the same with Groupon. Groupon was causing them to lose money," Aireka says. She explains that with Groupon's deals, the small businesses using the platform have to discount the cost of a promoted product or service significantly, with a significant cut of the sales' proceeds going to Groupon after a transaction fee.
Separately, Aireka says that in her research for creating Nodat, she studied a lot of comments under Yelp advertisements on social media. There, she read horror stories from business owners, claiming that their positive feedback would disappear shortly after they turned away a Yelp salesperson trying to sell an advertising package. These comments would be replaced with exclusively negative reviews, and that the good reviews were held hostage to sell small business owners an ad package. What's more, Aireka says that she's familiar with stories of businesses using Yelp to sabotage one another, with the platform being used as a weapon to do the dirty work of competing businesses looking to disadvantage others in the marketplace.
Aireka says, "It's a lot of dishonesty, it… plays a lot on the fact that those owners don't typically have an in-house marketing team who understands marketing concepts or how to play the game. So, a lot of small businesses are pumping a lot of money into these platforms, and these players, they know that! And it's easy money for them. They just sit back and collect."
According to Aireka, this is also impacting social media platforms, and she notes that Facebook has had issues with "click farms" generating paid-for likes on business pages. She compares these business models to an elaborate illusion, based on volume and ad sales artificially created to "drive up the dollar."
Flying in the face of this, Nodat allows businesses to control what actions they need the customer to take. Customers don't see their reward from the action (e.g. checking into a business on social media until after they've completed what's requested of them. Aireka says that she did this to create transparency between the Nodat retailers and the consumer so that there was proof of results in the campaign.
By letting the retailer manage customer acquisition, retention, and promotion all at once, Nodat wants its partnering businesses to put all of their loyalty offers up on one platform. This lets businesses combine their resources into one platform. By one business making Nodat a hub of all its business offers, this in turn helps the other small businesses on Nodat attract and retain consumers. The logic is that if a consumer finds one business they like on Nodat, they might stick around and find others through browsing other businesses in their area. The customers will then become "nano-influencers" for small businesses, attracting others to join up and see what's going on around them, and the community becomes a marketing engine. "We turn the community into an army of nano-influencers," Aireka says.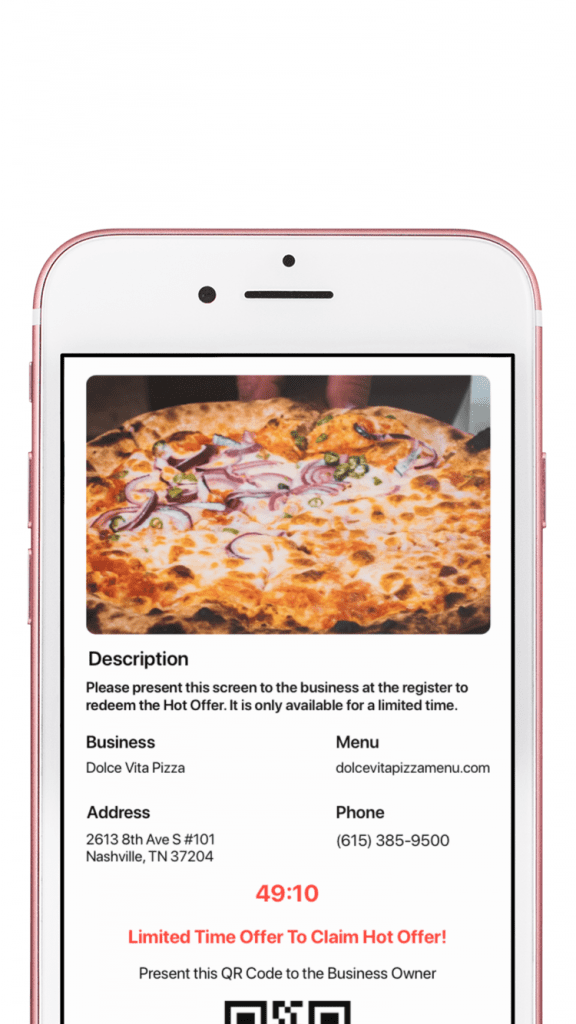 Nodat 2.0 was recently launched during the COVID-19 pandemic. However, the update for the software includes a temporal element to create a sense of urgency for the consumers. In October, Nodat's "Hot Offers" (time-sensitive mobile coupons) went live to attract new customers and drive demand from existing customers during slow business days. This also helps businesses get rid of excess items in inventory.
"There's a timer on the offer that dwindles down, and then the offer self-destructs. It disappears from the app when the timer expires," Aireka explains. The idea came to her after reading a Harvard Business Review case study of a Korean sandwich shop that installed an outdoor QR code in a public space. This QR code would only be active when the sunlight hit the installation in a certain way. The novelty of this attracted new customers, who would wait in anticipation for the QR code to be active so that they could redeem an offer. Aireka saw the success of the sandwich shop, and thought, "That would be really cool if we could do that in a mobile app, and actually just add a timer to where the deals change constantly."
Businesses using Hot Offers can control the duration of the offer at will, instead of being locked into an automated offer that may not work in their favor. Nodat's subscription of $89 a month gives businesses an unlimited amount of opportunities to create Hot Offers deals.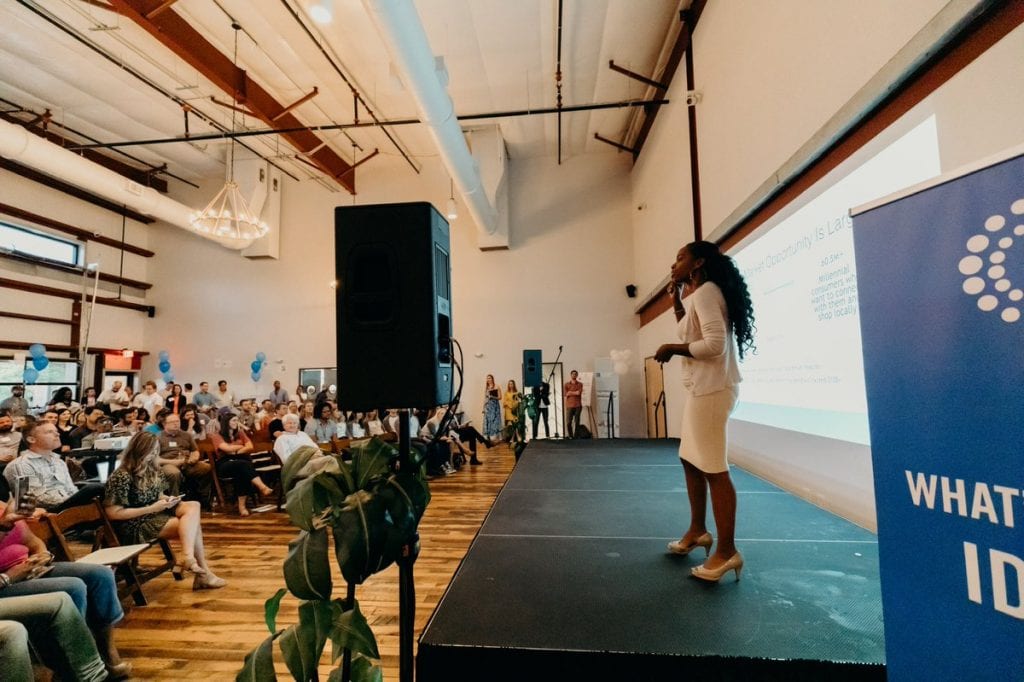 Currently, Nodat is available for use in Nashville and Jacksonville, FL, as Nodat is looking to perfect its software before expanding to other areas in 2021. Small businesses are able to use Nodat for free through the end of 2020, as Aireka wanted to help struggling small businesses stay afloat following the pandemic.
By working as a mobile marketing company, Nodat can bypass the dishonest tactics proffered by social media and other marketing platforms. Aireka says, "I think the days of not having a marketing budget and not doing consistent marketing, strategic marketing, are over."
For further information about Nodat, including how to partner with the organization or how to access their coupons, be sure to visit their website and social media.