The havoc wrought by COVID-19 has included physical, economic, and even psychological damage to Americans. Exacerbating the damage is the relative lack of information the public has about the virus. This refusal to agree upon a body of information and follow the best medical advice (based on current information) has seen a surge in misinformation from websites and social media accounts. For a country already so divided by ideology, the inability for members of the public to see eye-to-eye is adding to the number of people who've been infected and killed by the virus.
But what happens to recommended courses of action when they're partially based on inaccurate information?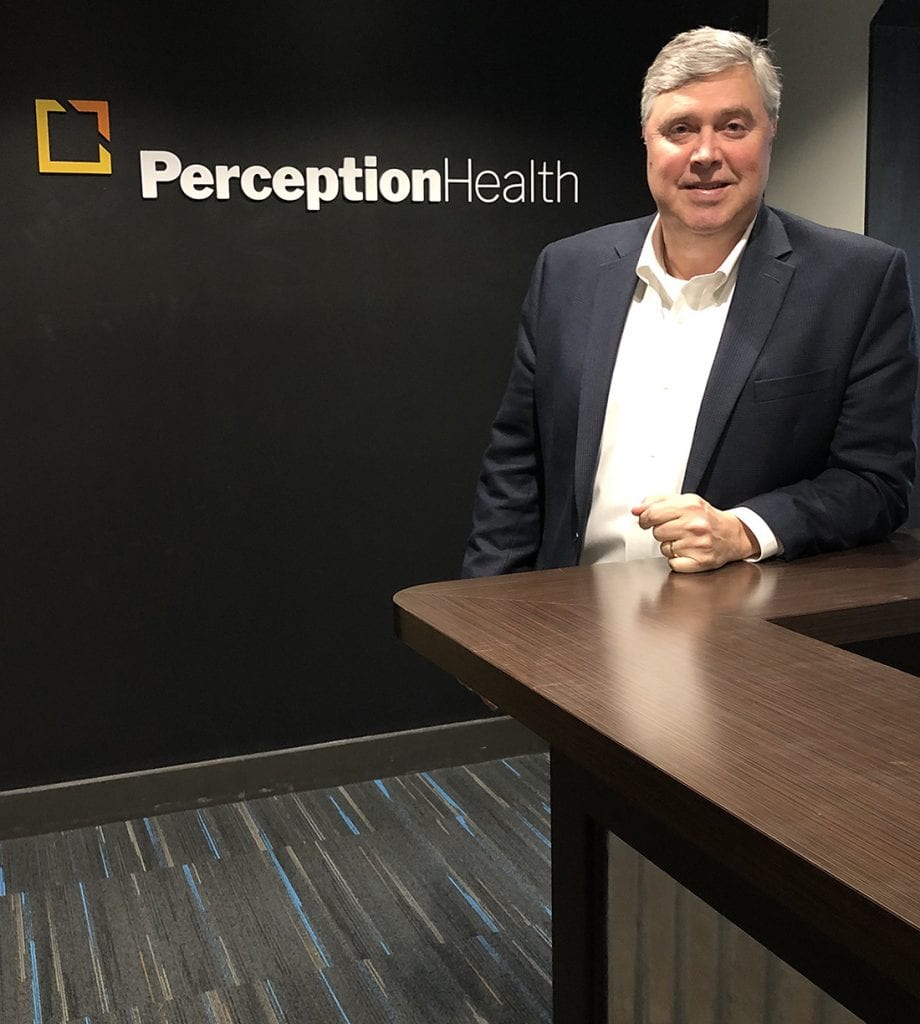 J Tod Fetherling has been in the healthcare analytics game for over 30 years. He's worked both for and with a number of healthcare companies, and his areas of expertise include data research, strategic planning, and website operation. Per technology and business training company O'Reilly Media, "Mr. Fetherling served as Director of Interactive Marketing at Columbia/HCA Healthcare Corporation, where he created the vision, strategy, and implementation for www.columbia.net, one of the Internet's first major health portals. Columbia's site was profitable in 18 months and won numerous awards, including a Top Rating from Excite and recognition as a top healthcare site for Business-to-Business by AdAge. U.S. News and World Report also selected the site as one of the best eight sites in 1995." 
Tod's technological literacy and insight into healthcare also had him also serving as both the former President and CEO of the Nashville Technology Council, as well as the current President of the Healthcare Information and Management Systems Society Tennessee Chapter (Tennessee HIMSS). But it's his current role as CEO of Perception Health—a company based in Franklin, TN—that should capture the attention of Launch Engine readers. Its platform serves more than 28 billion medical claims, a number the company claims is the largest in the industry. Perception offers three services to client hospitals, which include Care Disease Prediction (a pre-diagnosis tool); Team Market Position Intelligence (analysis of referral patterns and network optimization through hospital markets); and Code Semantic Interoperability (medical coding crosswalks to map patient information related to things such as service line, disease state, anatomy, and hospital department groupings). 
Pictured: Map of Maricopa County COVID-19 Cases in Arizona
Tod tells Launch Engine that Perception Health has been tracking COVID-19 metrics daily. He says, "From March to the end of June, I know [that] the prediction model, early on, wound up being pretty accurate based on the global markets and how everybody was going to do. I think my final correlation score was .98 of that project model. But what's happened since—and where there is reason to be skeptical of the media and reporting—is that a large majority of the cases have been incorrectly classified. And the states are going back and retroactively updating data from two weeks ago. And so, we made a decision to stop our daily county/state reporting, and instead focus on our patient database."
Tod says that the testing itself for all of the data paints an inaccurate picture because the methodology for reporting isn't consistently enforced across all counties and states. "There are counties and states that are mingling the antibody test with the [coronavirus] test. The nasal swab. So that's a problem in and of itself because that sort of sets the initial engagement of how many people are at risk, whether they're symptomatic or asymptomatic…  What we really need people to report on is the active cases. So, if you look at any of this data, you know the recovery number is… under-reported. It's just not correct at all."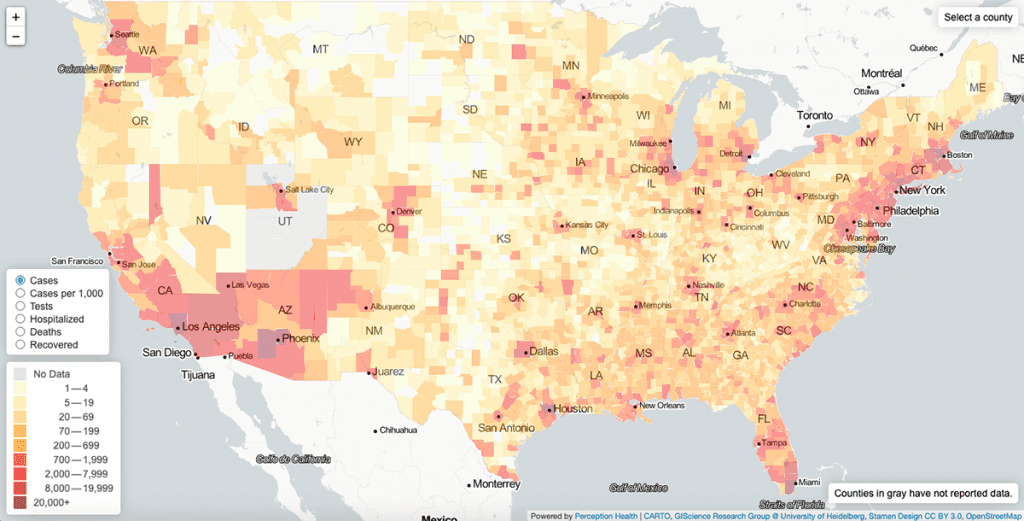 Pictured: Recent United States Map of COVID-19 Cases (from July)
Before the COVID-19 pandemic, Perception Health had published a number of research papers in medical journals and via their website. The company's experience in analyzing healthcare reports includes research predicting lung cancer before diagnosis in patients, tracking the tens of millions of Americans who don't know they have AFib, and keeping tabs on the 2019 flu cases. Using those strengthened medical research skills, Perception Health is able to access over 300,000 clinical records of coronavirus patients to create their periodic coronavirus briefs. The change in focus included what was going on with coronavirus patients, referral patterns of patients, other entities patients had seen while getting care, healthcare timelines, and other items.
Looking at multiple sets of data, Tod explains that metrics provided by other developed countries reporting their COVID-19 statistics will generally show that 85 percent of people actively diagnosed with the coronavirus will recover a month afterward. It's because of the inconsistent methodology used at the county and state levels that Perception Health has been a public advocate for standardized reporting since March. The company's strategy for getting counties and states to adopt standardized reporting includes alerting senators, members of the House of Representatives, and other local and state officials all across the country.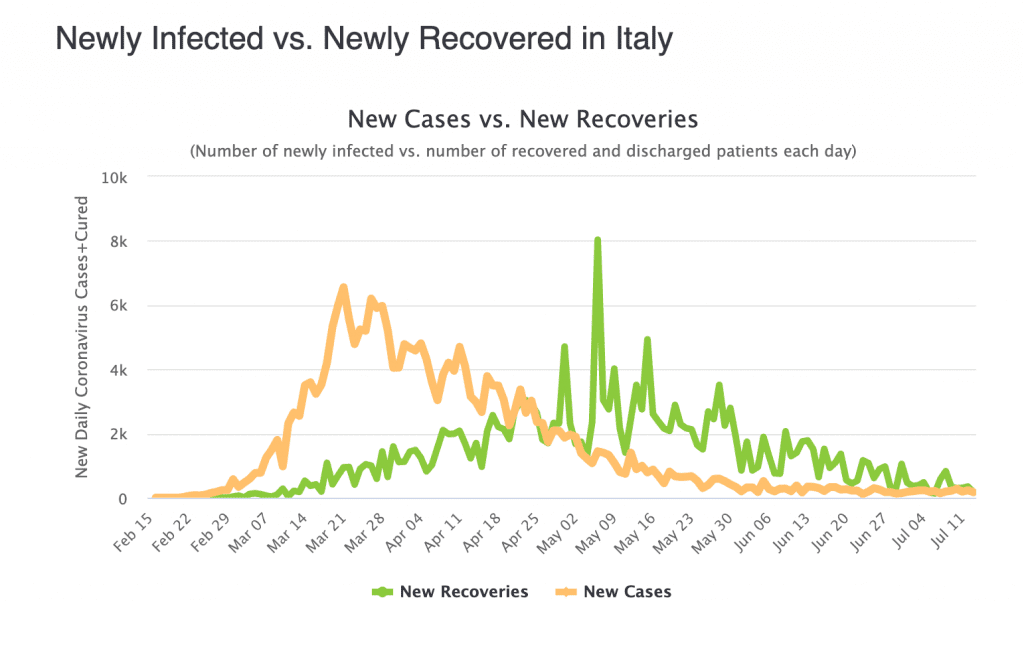 Note: This information was provided by Perception Health in early July.
"There is all kinds of not-good information that is coming out," Tod says. "For a country of our size that's facing a pandemic, it's almost embarrassing that we can't get every county and every state in the U.S. to report six numbers every day, and be accurate about those numbers and not mess with them." 
Tod says that when it comes to mapping COVID-19's infections, the general public really doesn't know anything for a fact. "That's probably the scariest thing that I can think all day long, is that we don't really know. So until we get the standardized reporting and everyone agrees to the rules, then it's going to be a moving target." Regarding his present assessment of the coronavirus, Fetherling adds, "We believe that there is obviously a—I don't know if you want to call it a second wave yet⁠—but a bounce that was created by the timing of Memorial Day and then all of the protests. We think the virus is actually way more prevalent in the community than what anybody thinks about right now today. And so, as a result, the more testing that we do, you're going to find a lot more cases."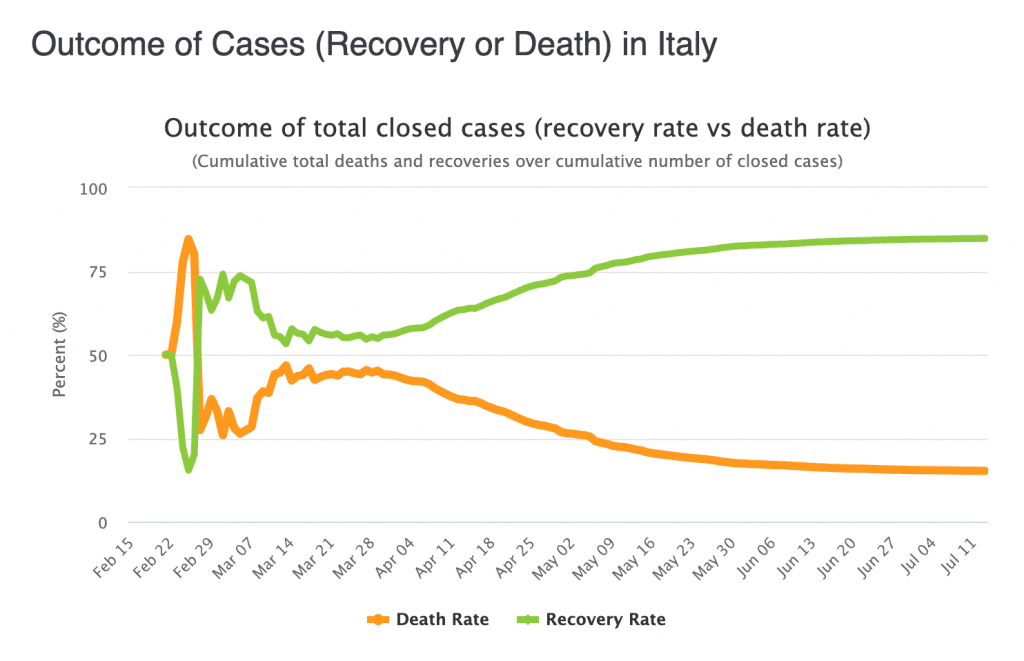 Note: This information was provided by Perception Health in early July.
For the record, Fetherling thinks the coronavirus is a serious health threat. He also believes that in lieu of knowing complete COVID-19 infection rates, the general public should still assume that the pandemic is a major concern. He rejects the labeling of the coronavirus as an invisible threat, stating that its effects may be entirely observed. He says, "Any time we have 130,000 people in our country die from one thing, it's a bad thing. But you have to weigh that death rate also up against what else may occur as a result of closing the economy to save the 130,000 lives. On the positive side for instance, automobile accidents have declined substantially. Hospital related injuries and deaths have declined. Heart attacks and strokes have declined.  On the negative side, domestic abuse, murders, suicide have seen increases. Depression and anxiety, I believe, are up 11-20 percent nationwide… and that is a big number."
The problem, in Tod's eyes, comes from the lack of coordinated response by state and county officials, whom he feels share the primary responsibility for informing the masses. "I've talked to several of them," Fetherling explains. "You know, like everybody does, they feel like they're under-funded… but in the time of an epidemic, those are the people who need to be responsible and accountable." He says that for something such as a pandemic, "information is your number one asset." He also stresses that this is a national problem, citing the State of Rhode Island's refusal to publish any coronavirus statistics for 60 days at the county level after their first case.
Fetherling says, "Well, at the consumer level, right, you need everybody to do what we instructed them to do. And we need everybody to consistently do that. Which is: wear a mask when you're in public; limit your involvement in large gatherings; wash your hands frequently and longer than you're used to; and then, probably most importantly, if you have symptoms, then you need to quarantine. If you've been around somebody with symptoms, you need to quarantine. These are common sense things that have now been politicized. So, the average American, if they're a Trump supporter, they're like, 'I'm not wearing a damn mask! The President told me I didn't have to.' That causes its own degree of misinformation… And then, the other side, the [Democratic] Party, benefits from a weak economy in the Fall and makes it an easy election for Joe Biden."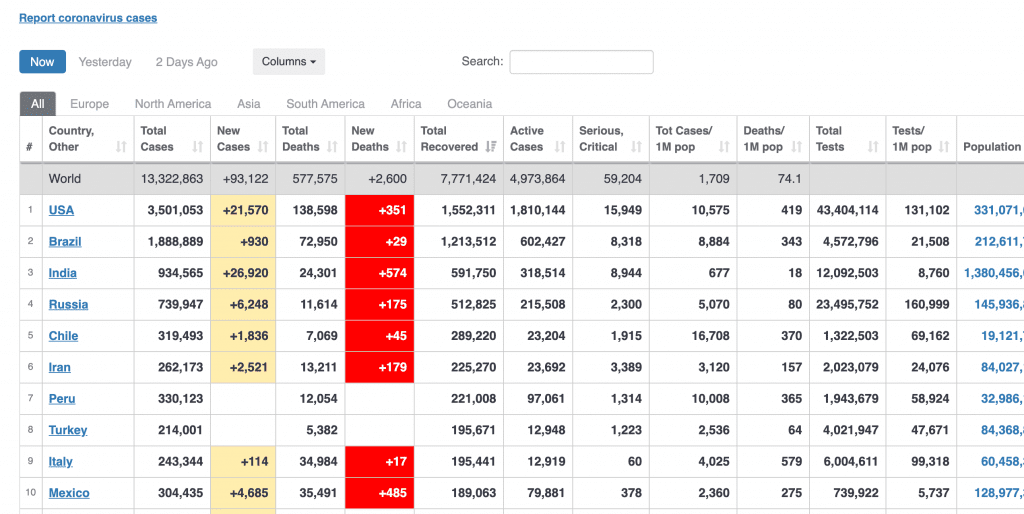 Note: This information was provided by Perception Health in early July.
Tod points out that he's based his comments on different articles he's aggregated since the pandemic began. As a nation, Tod thinks that by following the health guidelines given to the public, Americans can assist the public recovery from the coronavirus. Whether or not the coronavirus is being weaponized by politicians, he feels that the health of the nation is in jeopardy. 
Tod says that the treatment for the coronavirus "lies within us." He adds, "We just don't know what that answer is today. But somewhere in [our bodies] is the capability for us to actually contribute individually to the scientific evidence body that will… hopefully help end this sooner than later. He says that, for those willing, people who've had coronavirus test results or blood samples taken can opt to have their results submitted to the coronavirus antibody studies to help medical professionals research better treatment. 
Tod invites those interested in information technology and healthcare to visit the Tennessee HIMSS website for more information about the organization, including upcoming events and opportunities for workers or companies of various sizes to get involved. For further information about Perception Health, including the chance to schedule a demo for their solutions or for a pricing and licensing request, be sure to visit their website and social media.