Famous artist Salvador Dali is quoted as saying, "Surrealism is destructive, but it destroys only what it considers to be shackles limiting our vision."
If she was ever held by such restraints, Knoxville hyperrealist artist Denise Stewart-Sanabria must have escaped them a long time ago. The recipient of almost 30 awards for her art, Denise's playful pokes at accepted societal notions of decency seem to be a welcomed challenge to the status quo, as her work is widely admired in various places.
Denise's website gives some context for her success as an artist, stating "Her work is included in various museums, private, and corporate collections including: The Tennessee State Museum, The Evansville Museum of Art in Indiana, The Knoxville Museum of Art, [Firstbank TN], Pinnacle Banks, Omni and Opryland Hotels, Scripps Networks, Knoxville Botanical Gardens, Jewelry Television, TriStar Energy, and the corporate offices of McGhee Tyson Airport."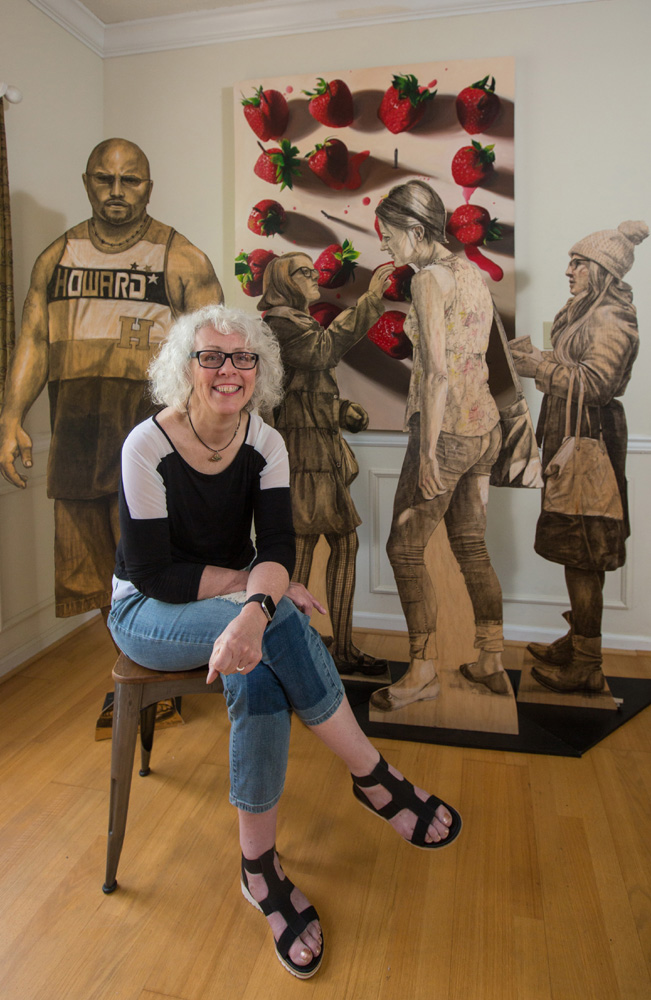 Denise's interest in art started early on. She grew up in Massachusetts, getting her BFA in Painting from the University of Massachusetts Amherst.
"I love low-brow. I love combining high-brow and low-brow stuff," she tells Launch Engine.  This dichotomy stems from her personal background, as she feels that her mother is "the queen of high-brow culture." On the other hand, her father is the exact opposite. Denise characterizes him as "The king of low-brow." She offers an example of this, relating an anecdote from when she used to watch "The Ed Sullivan Show" with her father. The program would periodically feature opera singers. As a joke, Denise's father would pretend to translate the Italian into semi-obscene English he would make up. 
Her family's influence seems to be very palpable in her work. Her grandfather worked in a well-known bakery in their community during Denise's youth. As a consequence, Denise was told bedtime stories about food item characters breaking into places to steal food themselves. In addition, Denise was marked by her father's work as a hobbyist antiques dealer serving New England. Denise used to accompany him to auctions. This exposed her to all kinds of historic items, like furniture. Between that and actively visiting museums, Denise was able to take in a lot about the habits of people in the past, and experience the stories of the culture, place, and time of other people.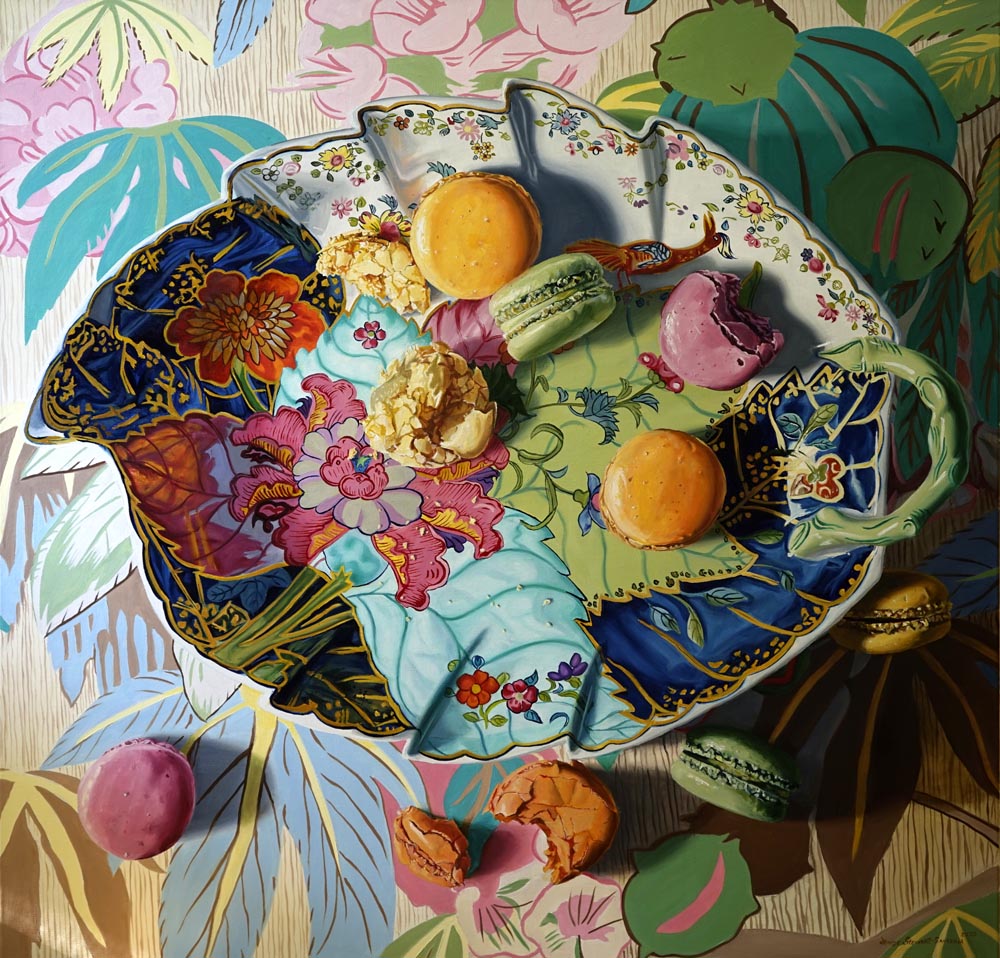 "It cast a light on what [were] the kind of important priorities in their lives at the time," she explains. "Oftentimes, just from silly objects."
When she was in college, Denise used the furniture from her father's collection and in museums to create abstract still lifes of furniture. This activity would eventually become her college thesis project. The act of such staging has only grown, but she's moved on to elements that visually give her more. She does three main lines of work: paintings, life-size cutout drawings on plywood for conceptual crowd installations, and her "alters," which are misappropriated contemporary reimaginings of mythology.
Regarding the meaning of her art, Denise says, "It's basically all about human culture and interrelationships, and the stuff we make. And the stuff we surround ourselves with. And the weird things that we value."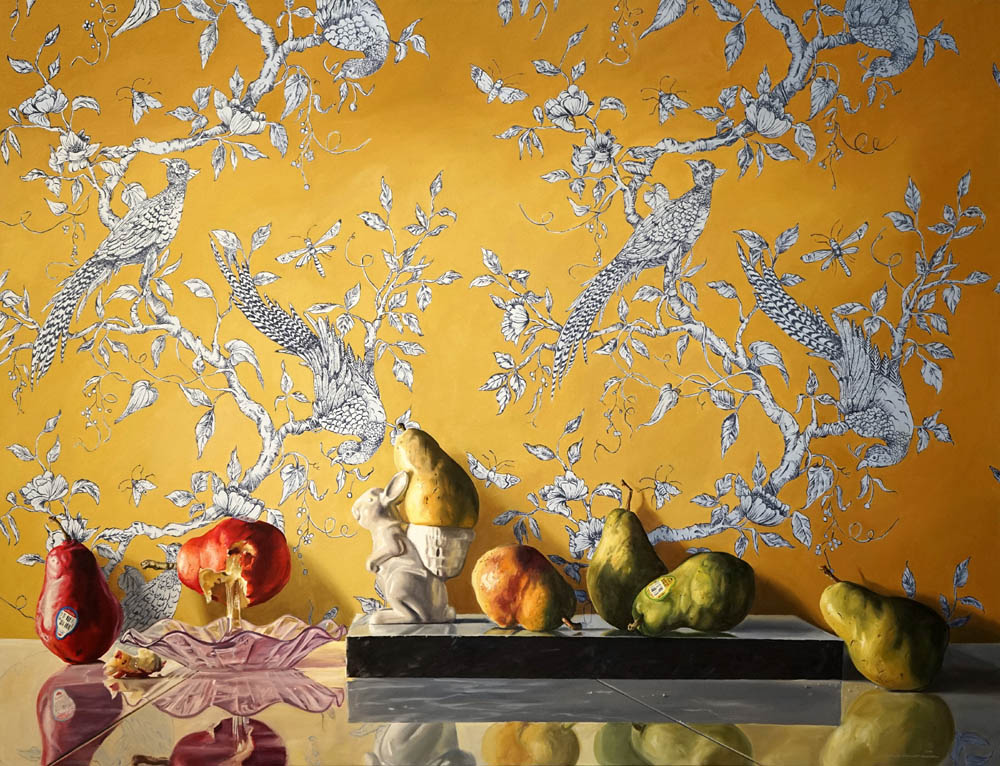 Her latest creative tangent is to paint anthropomorphic food and other items that let her play with different themes, such as the visual indulgences of dolling up food to the point it no longer is safe to eat.
Not quite to the level of Georgia O'Keeffe, some of her work with food is more suggestive than one might realize. "I like debauchery," she says, later adding, "I just love the idea of taking a whole bunch of food and just smushing it—like there's been some sort of godawful fight or battle or something like that. And all of this stuff is dripping and oozing all over each other. There's a sensuosity to it too."
Denise doesn't engage in such vice herself. And, as a result of her abstaining from acting wild or drinking, she preserves the fantasy of decadence, never actually pursuing it so it's all the more enjoyable to explore in her art. No longer pleasant-looking, items like deconstructed cakes, flattened macaroons, and crushed lemon meringue pies round out a cast of characters in a drama that also features dishware, extravagant backdrops, and flowers or vegetables placed into or onto the culinary subjects.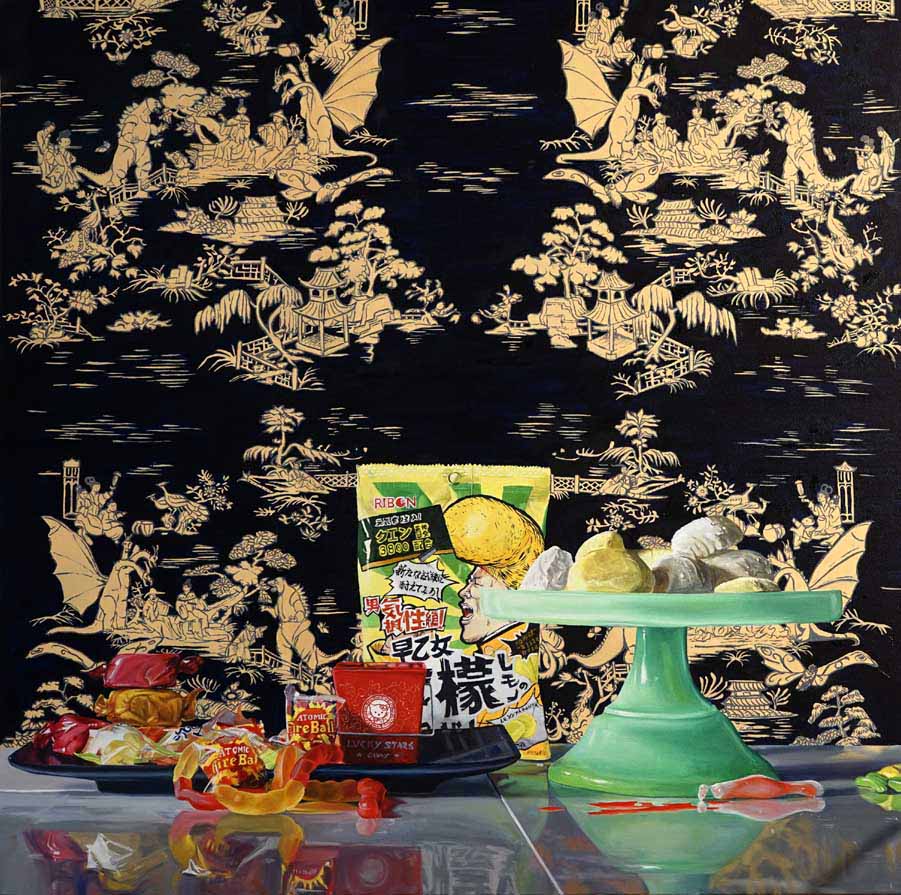 Her work with food is less appetizing than it is dramatic. Depending on what the food is and how she plans to mishandle it, Denise can damage the items to create a messy expressiveness. She likes the violence of the art she makes—in part because she feels that the constructed violence of her work takes the power away from violence in the real world.
In 2015, Denise did an interview with Tube Magazine. In that interview she made a statement on her exhibition Epicurean that adds context to her drive to depict violent scenes with food. "What if, however, I used food as a stand in for humans?," she proposed. "Not only would it be amusing, it could even be delicious! Over the years, I have had pears enact Inquisition scenes, impaled maraschino cherries on nails, and had donuts enact the seven deadly sins and various fertility rites."
Having "done a lot of murder scenes," some of Denise's paintings include recreations of other famous works of art. One work, titled "Cosmetically Exterminated," is a recreation of Francisco Goya's "Third of May 1808," with peppers and nail polish filling in for the bloodshed after a firing squad.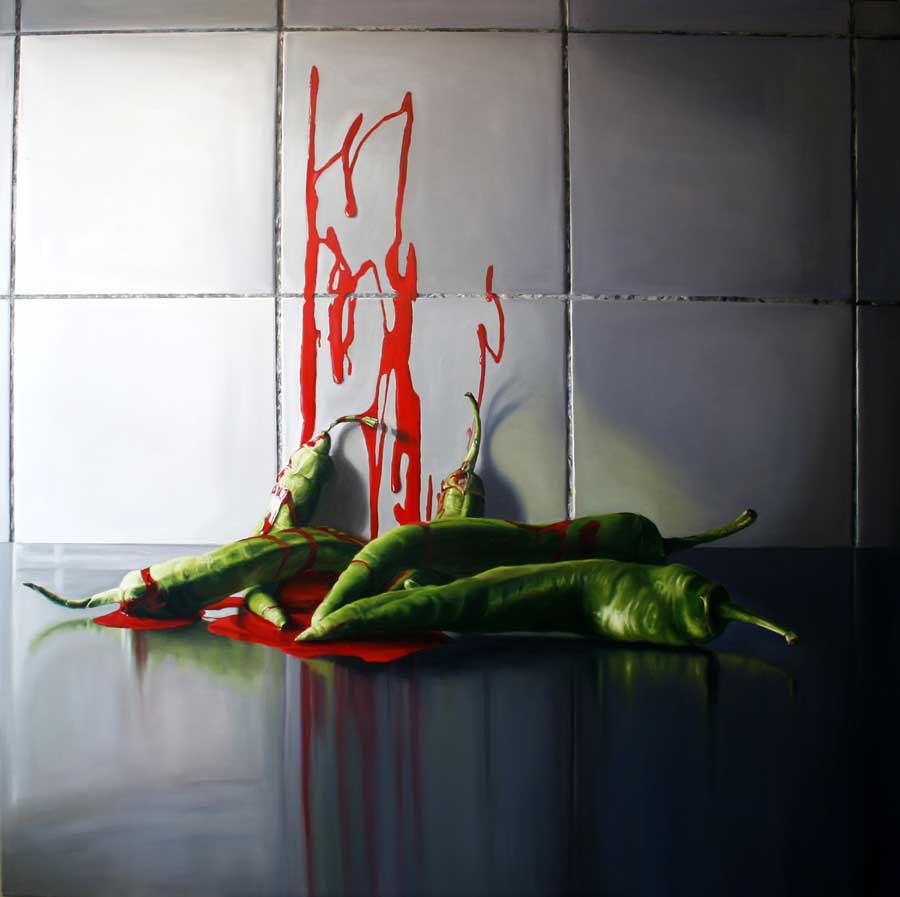 On the nonviolent front, she did the same with John Singer Sargent's "The Cult of Spring," substituting the action in the painting with donuts, PEEPS marshmallow candies, and a ceramic rabbit.
Whether depicting sex, violence, or something else, Denise stays busy. She estimates that she works over 70 hours a week to keep up with demand for her work. For the record, COVID-19 did cancel her art shows, and did disrupt her galleries. Fortunately, as for client demand, she says it's been business as usual, and that the interior designers she works with have been "going nuts" keeping up with client demand. Staying as busy as she does, Denise compares working with three art galleries to being a bigamist. "And there's this one wife that lives in Alaska," she jokes, "and I just never have enough time to go to Alaska."
She appreciates the work she's getting. She is also grateful for the fact that she has so much work to do while many people can't say the same. Denise suggests that working as hard as she is isn't just about her, but about honoring the partnership of being in an art gallery. She says, "Everything I'm doing right now is to help myself and my galleries survive. And, it's a collaborative thing you do. I mean, the more good work you can pump out and get into your galleries that they can potentially sell, it's a 50/50 deal. You know? They get 50, you get 50. And you both gotta survive through the hard times."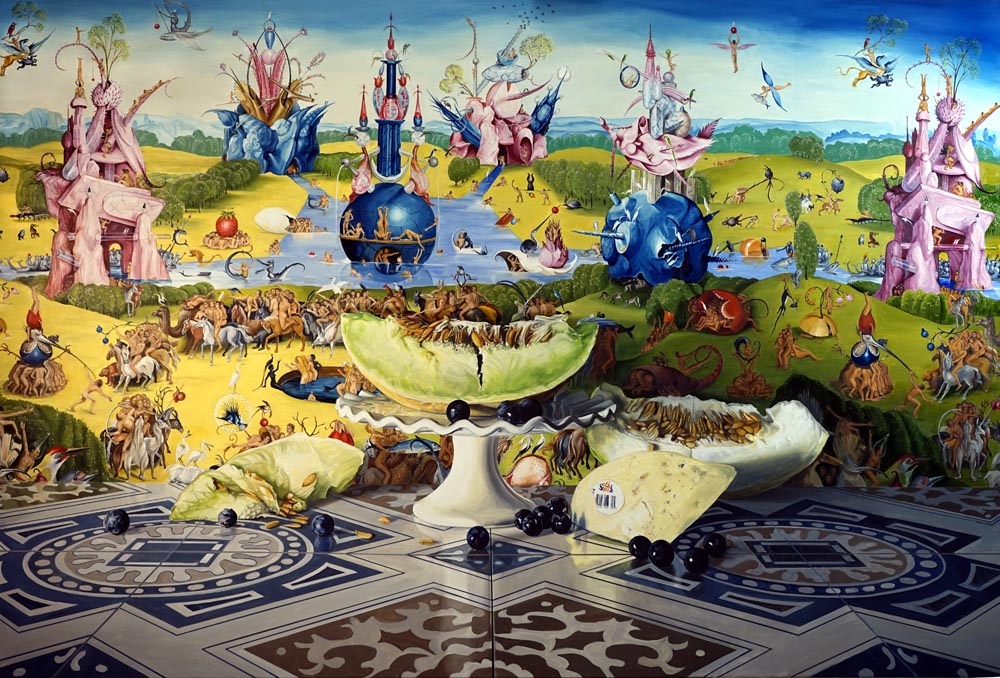 As noted above, Denise is represented by three galleries, including downtown Nashville's Chauvet Arts—of which a few pieces of her work are still on display from a previous show. In addition, she is represented by the Charleston, S.C. Mitchell Hill gallery, which is an atelier, shop, and interior design space that has periodically connected her to manufacturers. She shares that in 2019, she worked in collaboration with fabric producer Style Library London, in which she got to use their contemporary wallpapers and fabrics as backdrops in different paintings. She got to do the same back in November 2020, with Replacements Ltd., when she was loaned selected items to use for her work. The last gallery that represents Denise is DISTRICT Arts in Fredrick, Maryland.
Currently, Denise has artwork in Bennett Galleries in Knoxville, and New York's Hashimoto Contemporary, which will feature some of Denise's work for their "LUSH" group exhibition. This art will have a floral theme. Denise's contribution to the exhibit include the piece "Animal Behavior." Staging the painting, she took a porcelain rabbit, one of her Hieronymus Bosch "The Garden of Earthly Delights" action figures, and a gravy boat resembling a puking cat, and stuffed different vegetation into the backs and backsides of her props. She describes what she did with the Bosch action figure, saying, "I stuck a radish in its butt. You know, because Bosch would appreciate that, since he did a lot of that." Other recent works relative to Nashville include an November 2020 arts installation at the Nashville International Airport's Delta Sky Lounge and an installation at the Federal Reserve Bank of Atlanta's Nashville Branch.
Denise wants to return to Chauvet Arts to do another show. However, she cautions that it may be a little while, since she has obligations to other galleries and needs to make more art. She jokes about what she could do for another series in 2021, saying, "I need to do something with a bunch of lipstick, and bite stuff off with lipstick on. Make it look like some kind of a… underneath the Knoxville Magnolia Street underpass where you get service for $20."
For further information about Denise Stewart-Sanabria's art, be sure to visit her website and social media.