Caleb Woodard is a second-generation woodworker based in his hometown of Springfield, TN. His exposure to woodworking came from his father, a traditional craftsman who both made furniture professionally when Caleb was young, and continued this pursuit as a hobby in retirement. Caleb tells Launch Engine that he learned all about the different kinds of joints that could hold wooden furniture together—including hand-cut, dovetail, and mortise and tenon joints—early on, constantly being surrounded by the furniture his father was making.
Making great furniture out of wood appealed to Caleb, but his interest leaned more toward the decorative flourishes, shapes, and carving of wood, or perhaps stated concisely—how he could make the wood tell a story.
"I never thought…  growing up here in Tennessee, that you could make a living doing that," Caleb recalls. He explains that 30 years ago, the Volunteer State saw the rise of imported furniture and, subsequently, the decline of domestic furniture manufacturing. This shift meant that the odds of becoming a successful furniture maker were highly unlikely.
Caleb went to college to study business. After school, he moved to Washington D.C. to work for a trade association. Even after getting his degree, Caleb realized that he hadn't shaken the itch—he still wanted to make things. So when he learned that a furniture shop in Arlington, VA needed help, Caleb decided to work for the company on nights and weekends. He was also taking sculpture classes in Alexandria, VA, and he put what he learned to good use in the furniture store.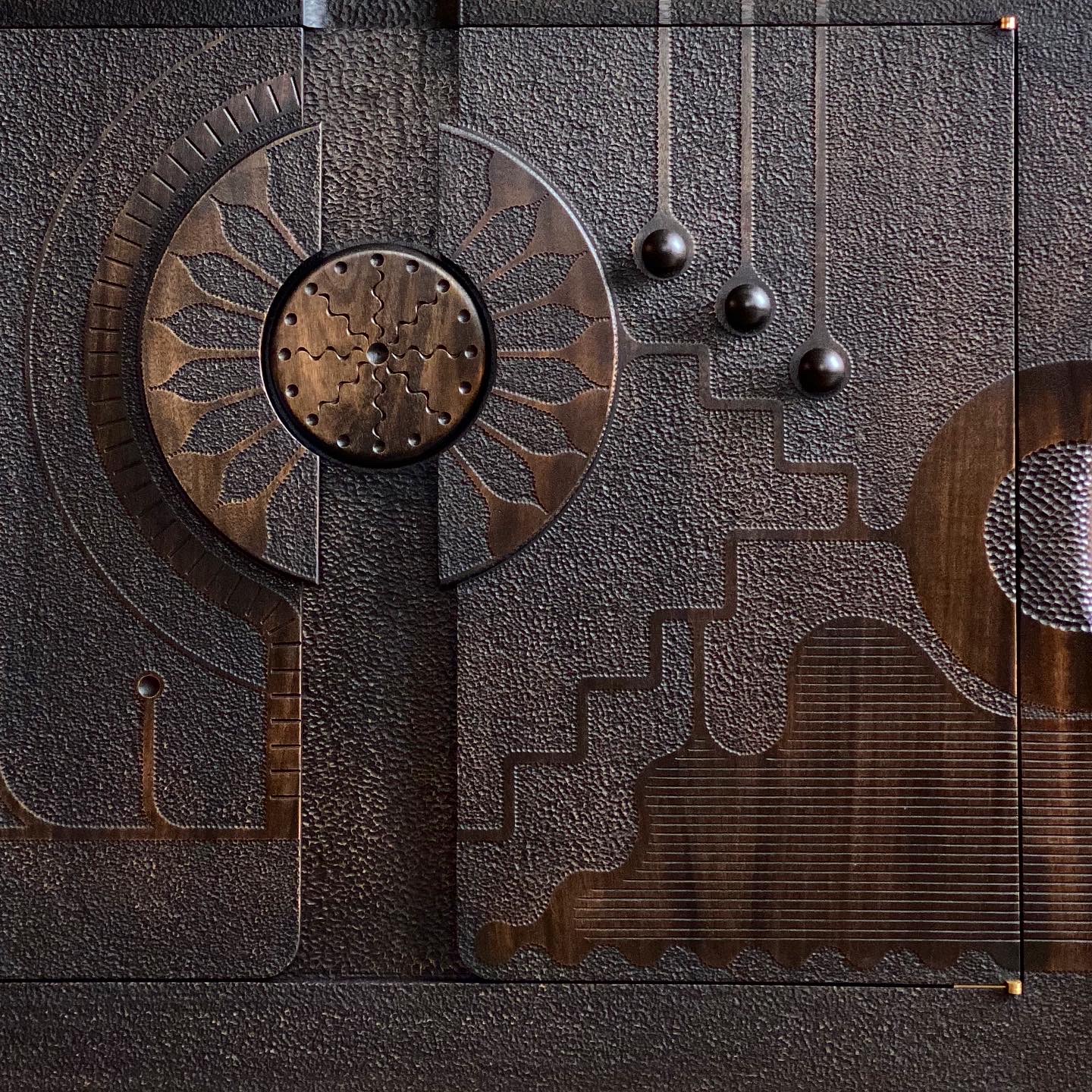 "The entire time… I would come [to Springfield] for visits, and I would bring back things to carve in the living room," Caleb recalls, adding that he also brought stone carving and clay projects to his Washington D.C. home to pass the time.
As Caleb's talents grew, his friends noticed, occasionally commissioning a piece of furniture from him. His talents in wood sculpture had also gotten him into some juried art shows, which brought prestige to his work. But Caleb still didn't see a clear career path to becoming a wood sculpture artist. Most of the artists he knew working in wood sculpture had to supplement their income by teaching. The lucky few that weren't doing that were saddled with so many obligations to get national recognition that Caleb was put off from going the traditional art route.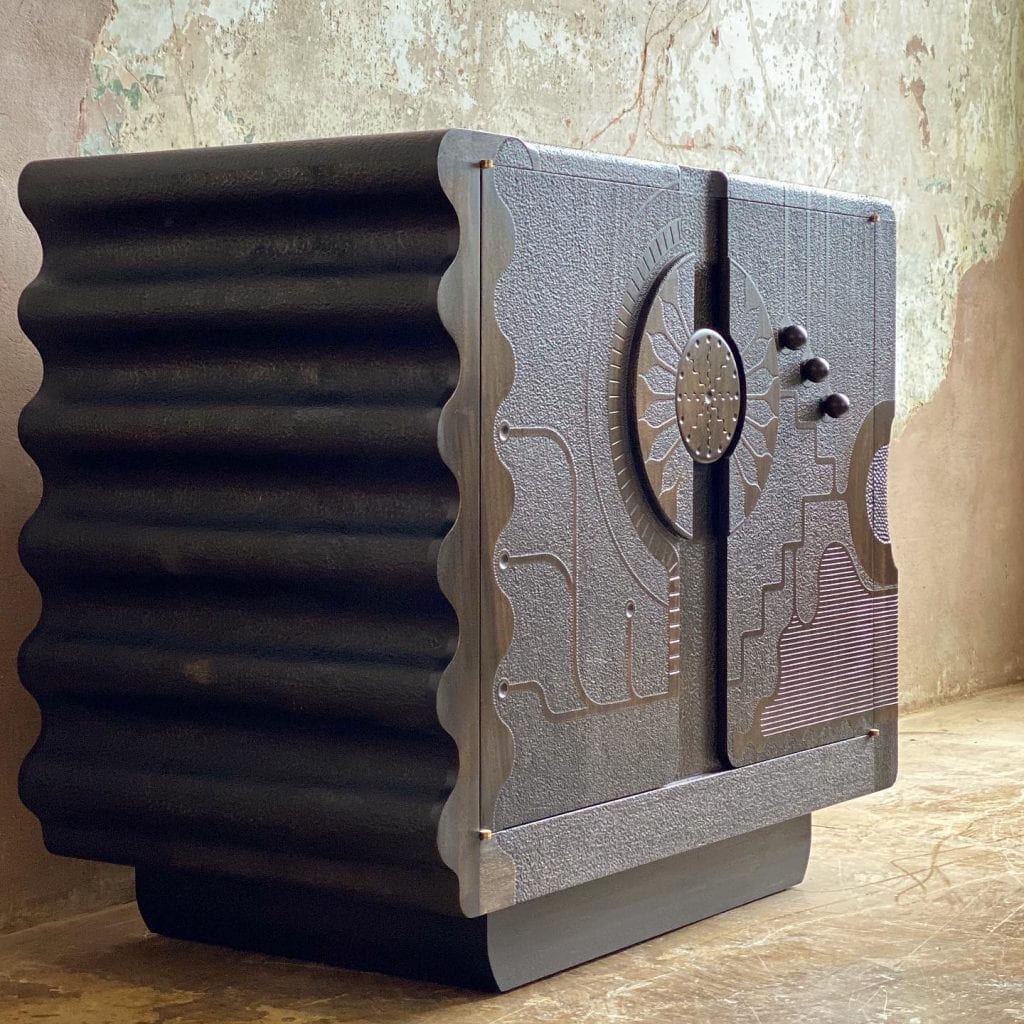 Skipping the hazards found in the wood artist path, Caleb decided that he would make creations that stood out as both functional pieces of art and furniture whose form was personally expressive. His decision to do this echoes the American Studio Craft Movement, in which small teams of craftsmen would make limited run, high-quality pieces of furniture that blurred the lines between art and furnishings.
Caleb started his own furniture business in 2005. The wisdom of this decision was soundly affirmed in 2006, when Caleb entered an art show for local craft makers in McLean, Virginia. His submission to this show included about a dozen pieces. Caleb says that he was able to sell almost everything he brought to the show. Those initial buyers became repeat customers and helped spread the word about what he was doing. His furniture business grew within the Washington D.C. market, and his pieces became known to serious collectors. With sales steadily growing, Caleb was able to cut back on working his job with the trade association. Over time, furniture making replaced the income from his job and he was able to dedicate himself to his craft fulltime.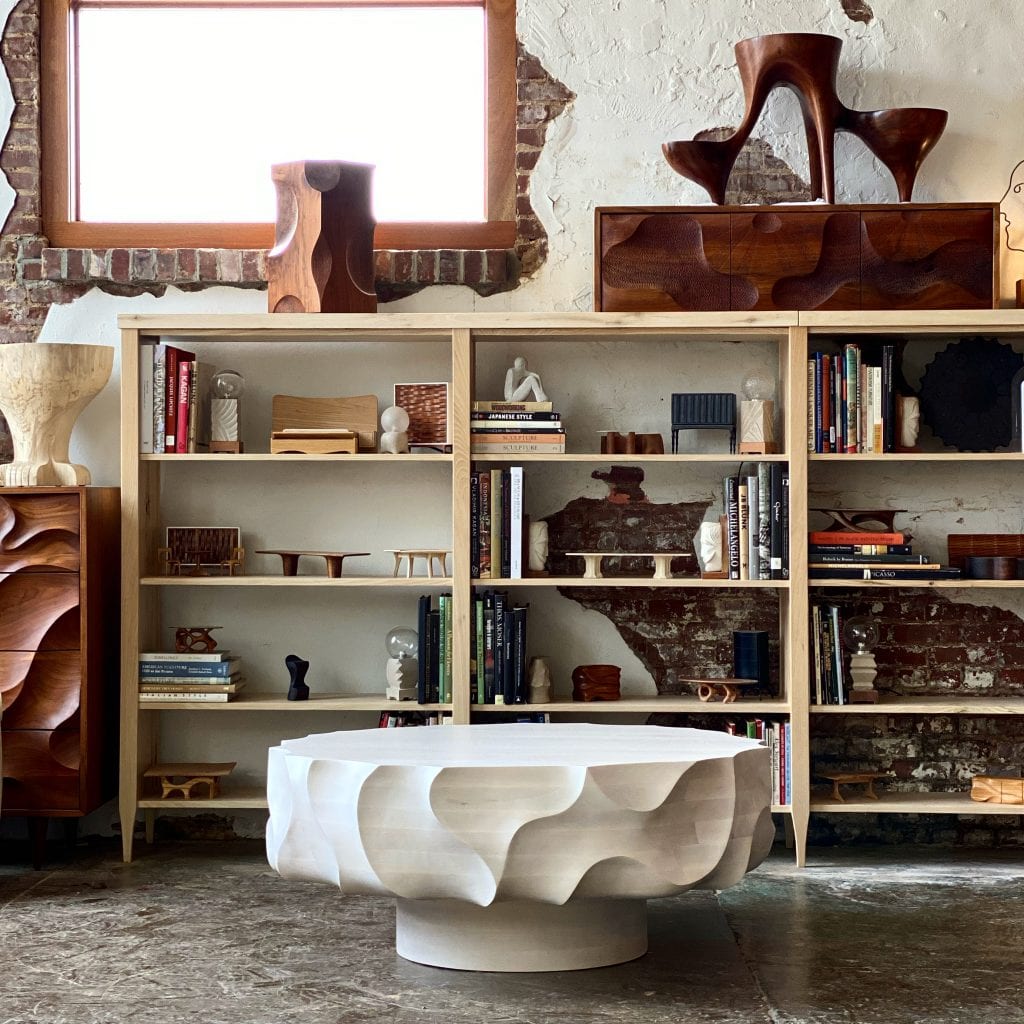 In 2013, Caleb relocated back to his hometown of Springfield, and set up the new furniture studio there. Initially, he was driving back and forth between Springfield and Washington D.C. to deal with the clients that he had cultivated over the years. However, this changed for him in 2015, as the demand for his work allowed him to work on his own terms and not have to meet clients personally.  
Labeling what Caleb Woodard makes can be a bit tricky, since it's a hybrid of different ideas. And because the works of his studio serve multiple purposes, he's not had much of a desire to define it. Caleb explains, "The kind of world that I'm in… It's gotten to be very, very scholarly. Where I'm at is… somewhere in-between art, craft, high design, all these types of things." He adds that with all of the books, college lectures, and academic programs focused on wood sculpture and contemporary design, even well-educated people struggle to characterize Caleb's work.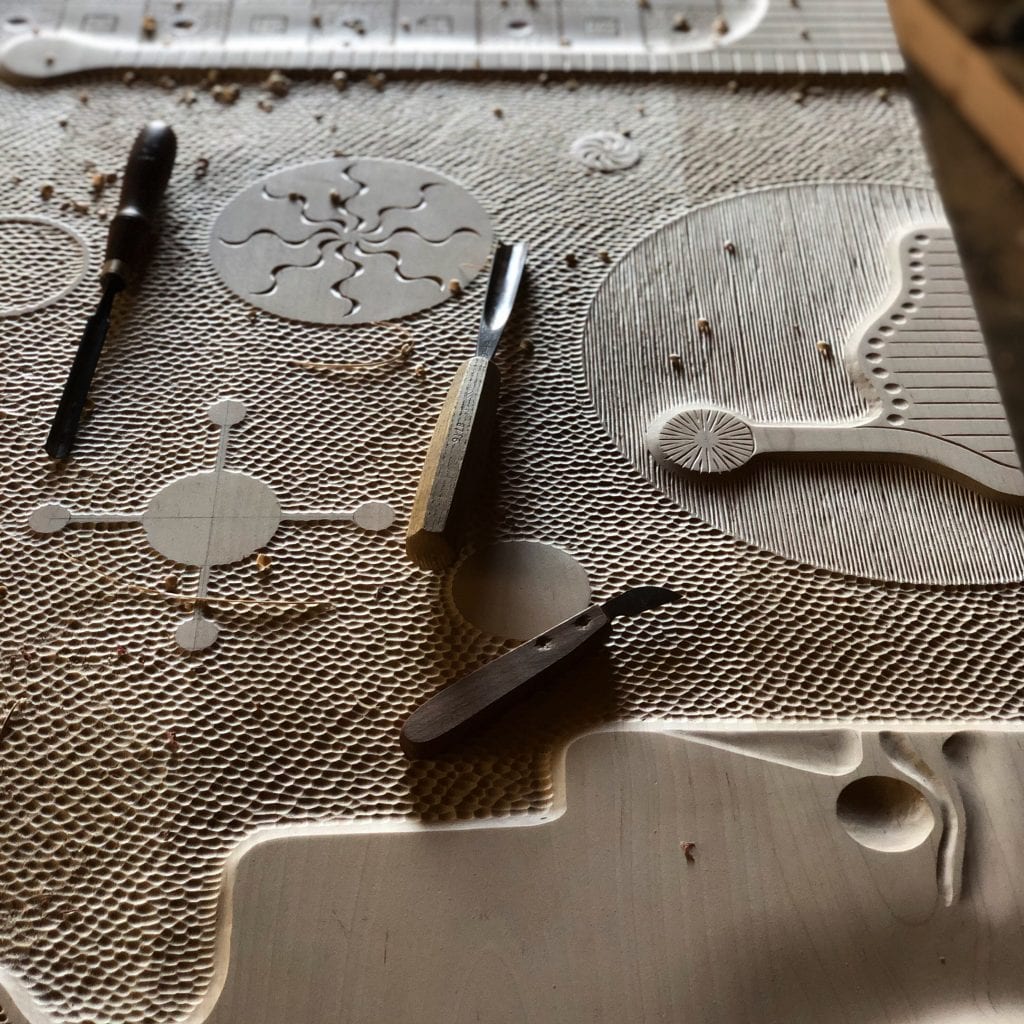 Caleb's output can be separated into different categories that include pieces that are strictly organic forms (non-functional art pieces) meant to capture movement or reflect a particular aesthetic. In addition, he creates works that are allegorical, which make use of motifs and symbolism to tell a story hidden in the details of the pieces. Now, on the furniture side of his business, the vast majority of Caleb's current projects are carved cabinets, ideally suited for living rooms and dining rooms. Meanwhile, Caleb continues to make solid log tables and lighting pieces, like lamps and installation lighting. Finally, he also does specialty work like lit sculptured pieces or decorative wall art installations.  

"The goal is always to try to do singular work," Caleb notes. With such a feeling of singularity, the furniture has an appeal to interior designers and architects who order his work directly. The lion's share of these orders come from clientele based in New York City, which adds to their importance for Caleb's business, since those vendors carry a reputation for selling elite goods. But the dissemination of his work doesn't end there—pieces from Caleb Woodard Furniture are sold to a number of different countries.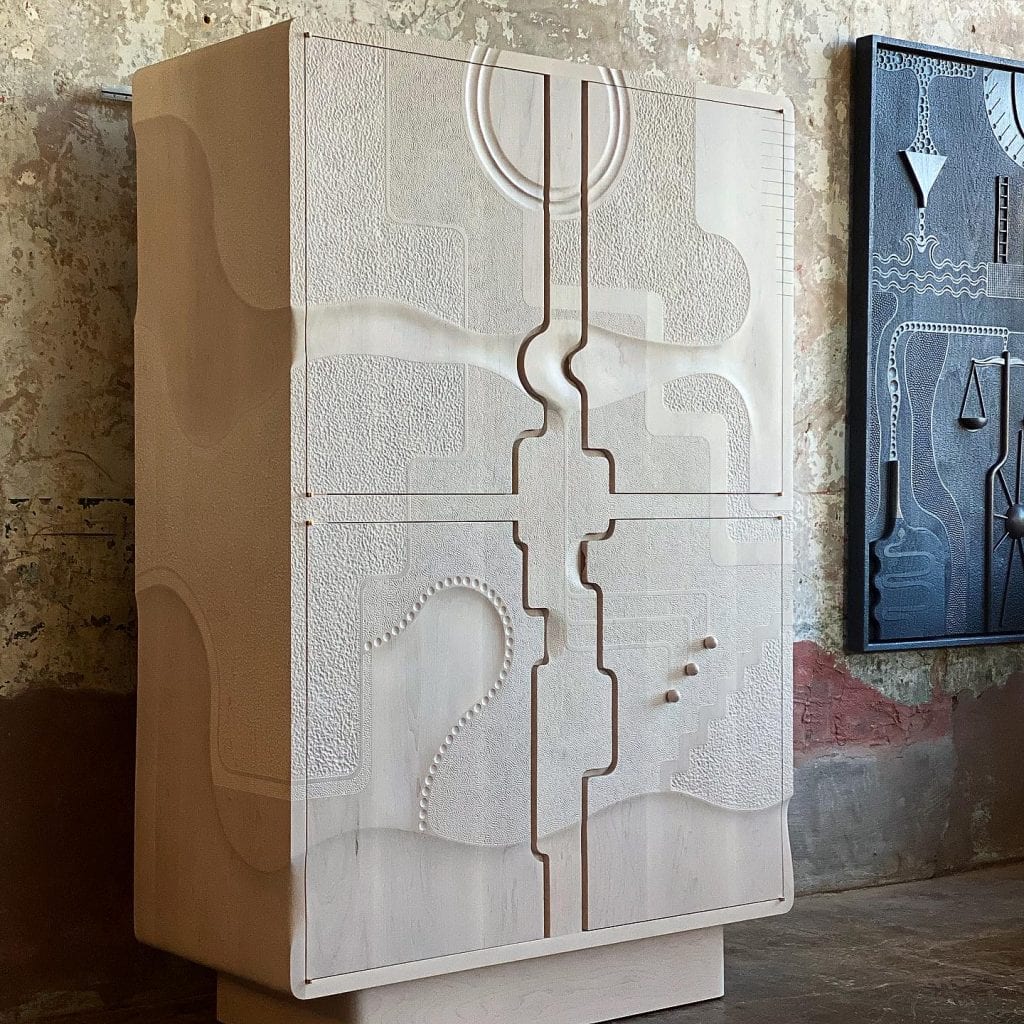 Naturally, Caleb is very picky about the kind of wood that he uses. "When it comes to the detailed carving works, there are only certain woods that are good for that," he explains. "It has to be a really tight grained wood." Woods like oak are too open grain (porous), and are not suitable for the type of details he wants in the finished product. He prefers domestic hardwoods for carving, favoring walnut, but on occasion he will select mahogany. He personally mills and air dries every piece of wood, and though he works on projects a year in advance, some woods require an air drying process of three years or longer.  
He shares, "There's a massive investment. [However, the tight grained wood] is far superior as far as stability, carving, everything like that. We invest in projects that will be three to four years down the road, and we only air dry." This is an important step in his creative process, as other methods of drying the wood won't give it the same desired characteristics. Caleb goes on to note that—outside of historic reproduction furniture—he's not aware of other wood sculptors letting the wood dry for such a long period of time.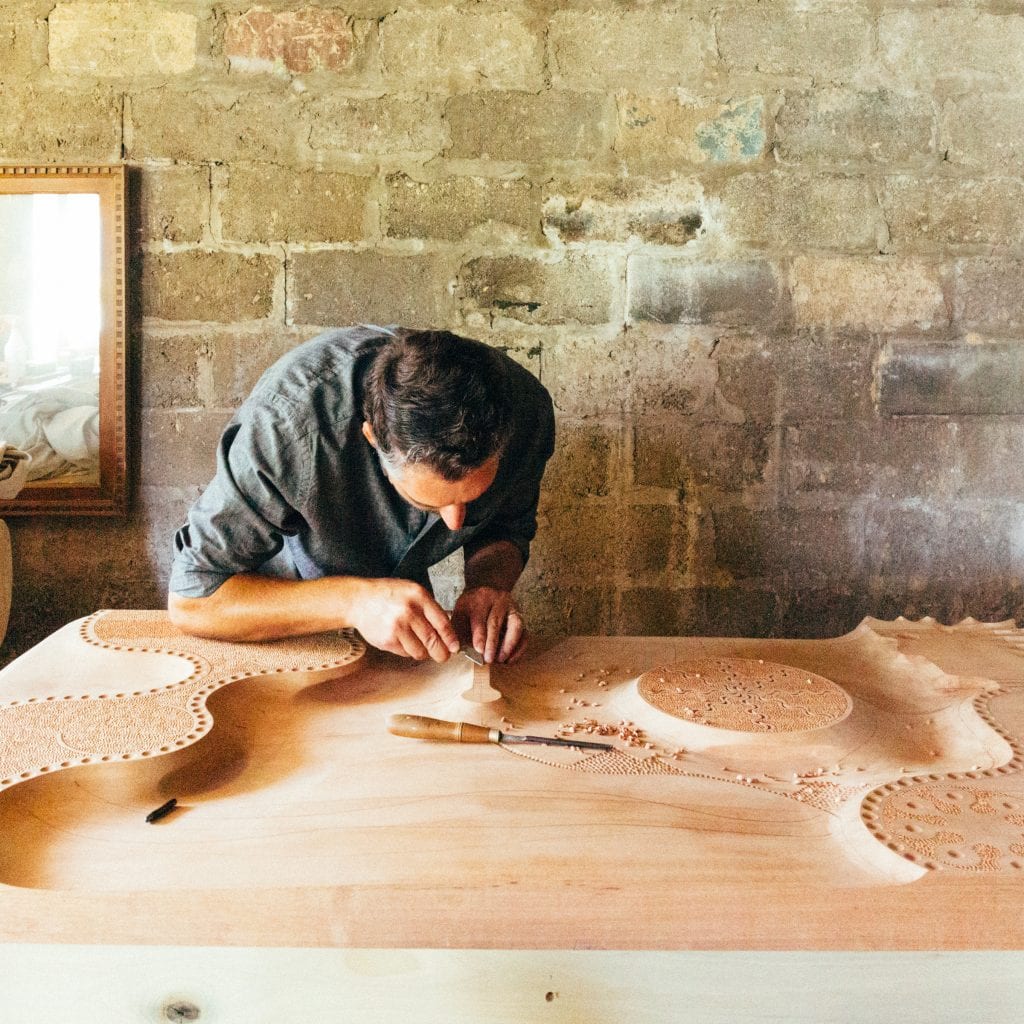 Given the extended duration of his creative process, Caleb tells Launch Engine that it can be a challenge to stay excited about certain projects he's working on if they get delayed. Because he's not working on pieces for a full year, the start-and-stop character of his work process means that he is constantly wrapping his head around intensive designs. But with Caleb not being "art directed" as much as he used to be, he's not beholden to someone else's vision for an order.
"It's more about 'Am I still doing the best work possible for them?'" he states, illustrating that the work he's doing now allows more room for what he wants and less of just trying to meet a vendor's specifications. "I'm in a different position now where I don't have to accept that input."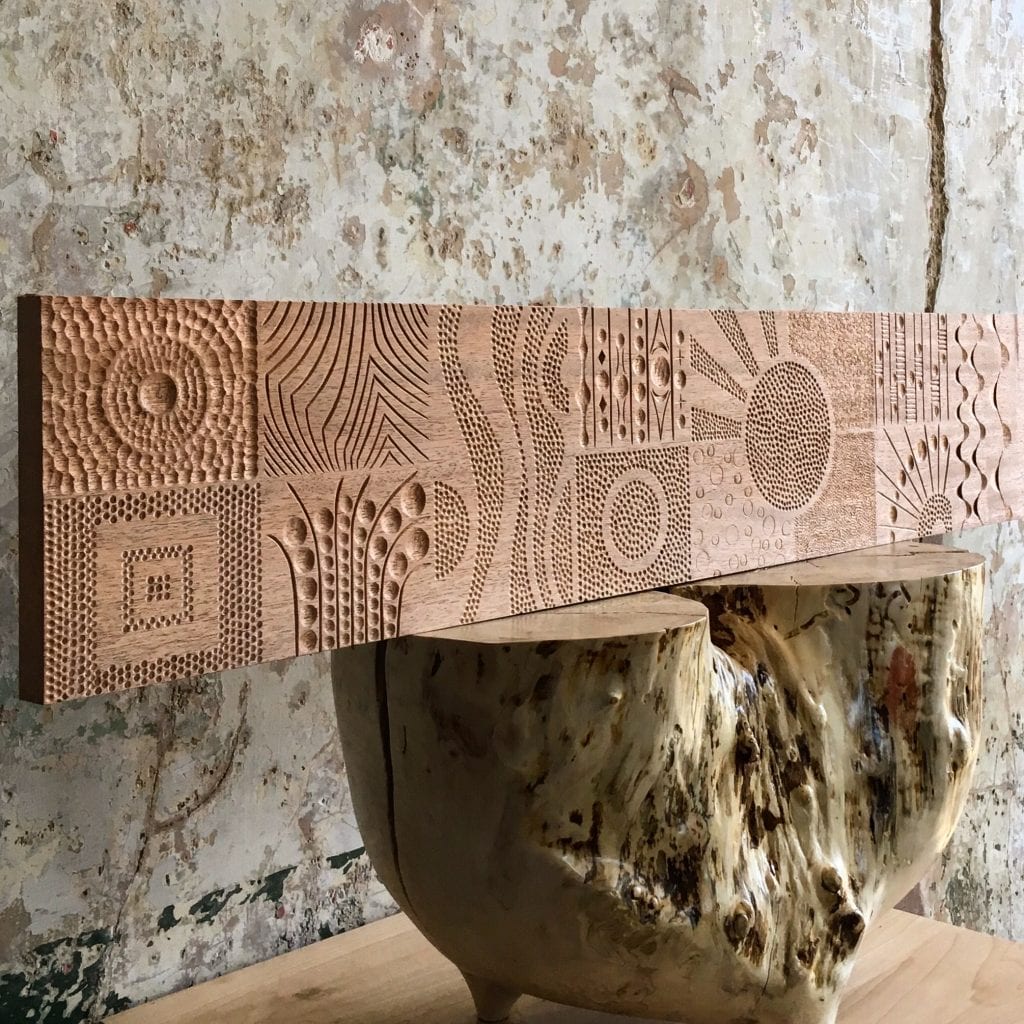 While the name "Caleb Woodard" is now associated with luxury items, Caleb has been making these items for years. He ignored complacency or the advice given to him by loved ones to pursue stability. Instead, he found something that gave him purpose. With that purpose came the work, and with the work came the recognition. Caleb now enjoys the luxury of being able to do things his way, frequently communicating to clients directly to tell them what they want instead of just fulfilling a commission. This also includes being able to step away from projects whenever his interest in them wanes. It also brings the honor of having his work placed in major art collections, which he describes as "humbling."
Caleb says, "I'm not trying to create a job. I want that desire to be there to have a piece, and them to be excited about having a piece. I'm not trying to sell."

For further information about the furniture of Caleb Woodard, visit his website and social media.