Many people regard the painted mural imagery seen on buildings as street graffiti or tagging rather than legitimate urban art done by career artists. But mural painting can be dated as far back as 30,000 BC—during the Paleolithic era—and as evidenced by the Lascaux Grottos cave paintings of southern France, it's part of a very old human tradition.

As a 5'3" tall muralist in Nashville, Andee Rudloff captures a big audience through her vibrant and unique style of painting. Her work is colorful and animated, much like the work of the late Keith Haring, one of her favorite artists. Just like Haring, Andee is imaginative, has a wonderful sense of humor, lacks prejudice, and enjoys collaborating with others.
"I first learned about Keith Haring," Andee recalls, "when I was 10 or 11 years old. I started getting Interview Magazine, and it was brilliant because it was talking about artists and that was what I wanted to hear about it. When they first started mailing it out, it was in a bag. So you couldn't see the covers, but when they started to send it in a clear bag my parents were like, 'What is this you're looking at?'—I absolutely loved it!"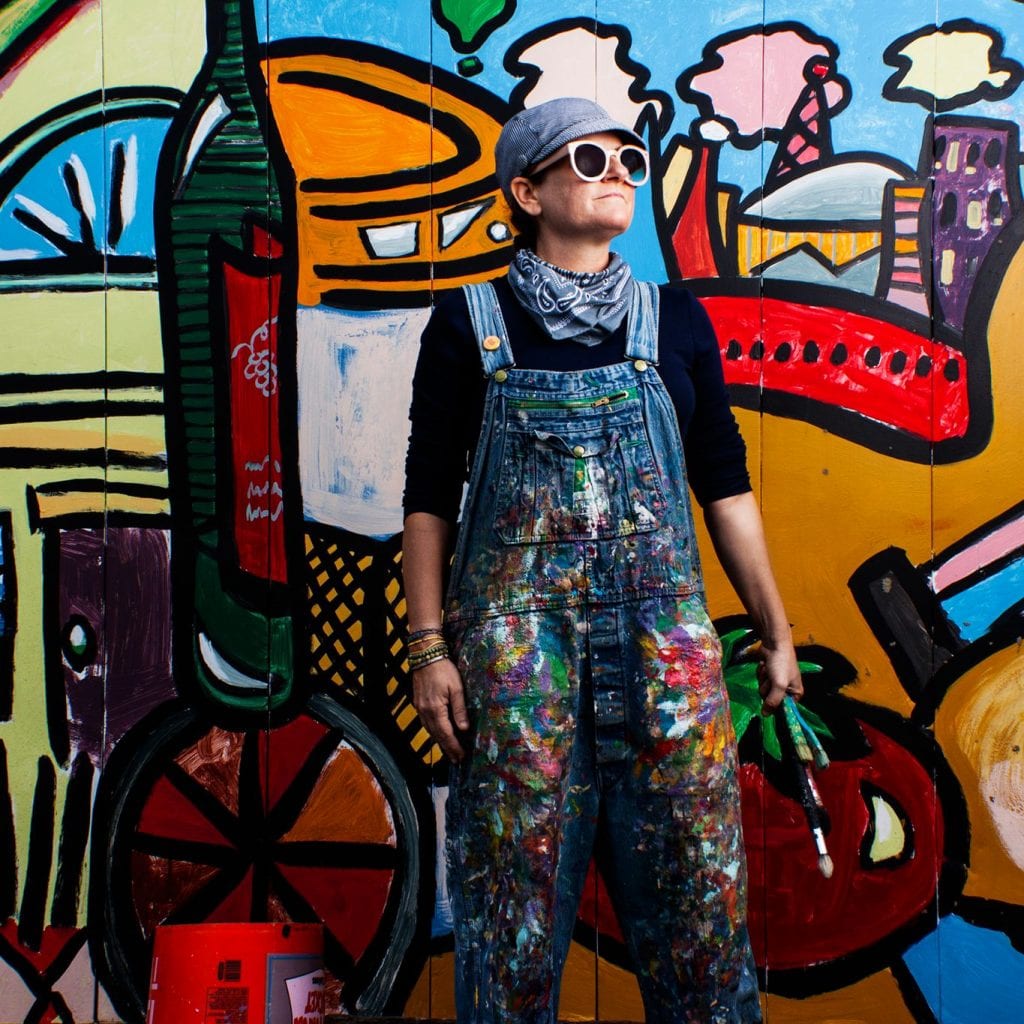 Mural painting is a very physical job, and it takes days to complete the larger-than-life designs. Outside murals exposed to the elements are most common, something Andee is drawn to and loves. She says, "I enjoy the physical aspects of my job, and I love the earthiness of painting and getting dirty."
With more than 25 years of large painting experience, Andee typically free-hand designs her outline first. If it is a very specific logo or sign, she will project or grid the design. She explains that deciding the paint always depends on the surface. A smooth surface requires less paint, a rough, porous surface like cinder block or brick uses much more. She uses various acrylic paints, including acrylic spray, mural paint, and exterior latex paints, depending on what she feels will work best for the surface and project. "I am currently prepping a brick surface," she explains, "and have already gone through five gallons of primer—and will probably go through five gallons more, just to prepare the surface. Then it will take several gallons of varied colors."
Originally from Bowling Green, Kentucky, Andee is based in Nashville these days. Her infectious energy shines through in her work, and her use of bright, bold colors reflects her positive, happy personality. Andee grew up in a hard-working family with three other siblings. She feels that her industriousness reflects what she learned from her mom and grandmother. "I grew up in a family of hard-working folks and as one of four kids. My mother and grandmother really influenced my work ethic, my comfort level, and my knowledge of questioning. My grandmother was a huge part of my life, and her passing on when I was 17 made me realize that time is limited, and passing on what you do in life is important. You can't stay closed off. I have a need to share why I am doing what I do. I enjoy the engagement with my audience throughout the process of creating my art."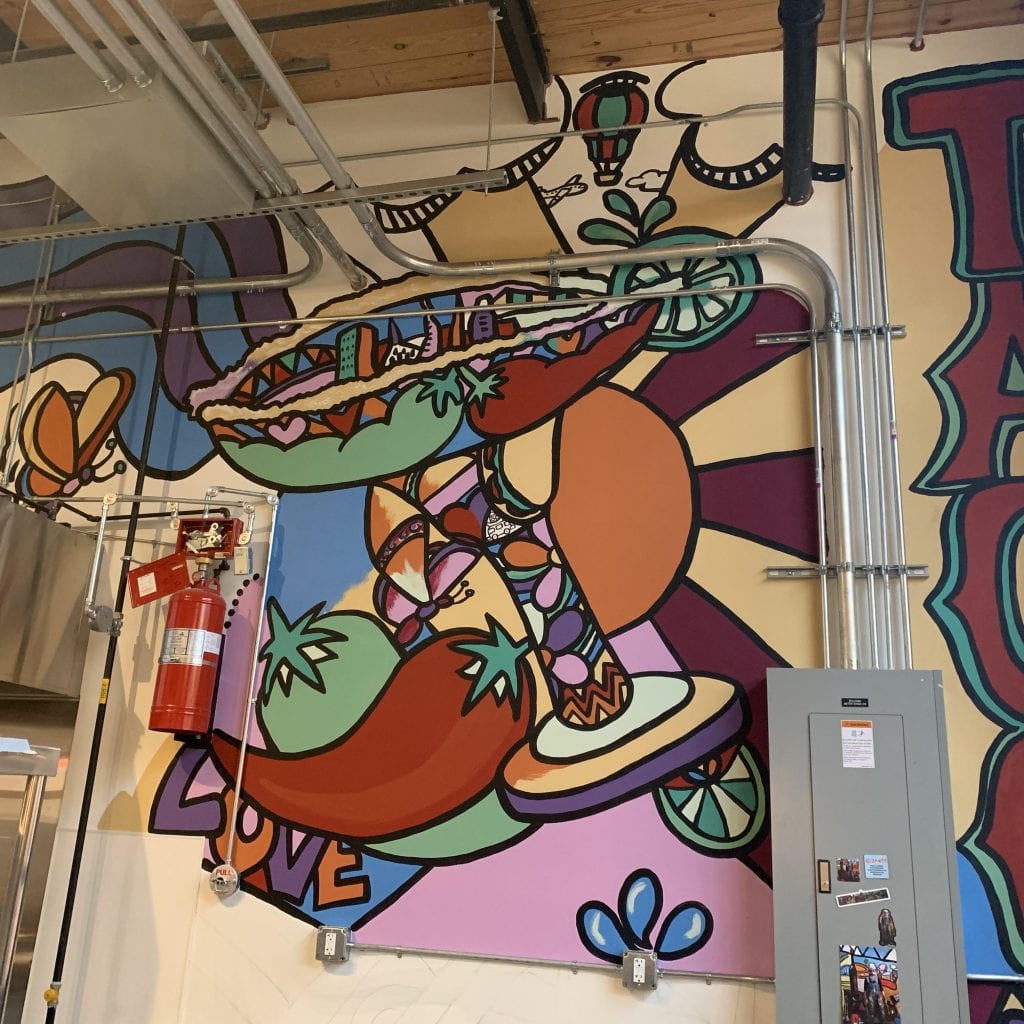 At 15, Andee had an opportunity to work with famed Kentucky glass blower Stephen Rolfe Powell through the Kentucky Governor's Scholars Program. In high school, she started running cross country and track, not because she enjoyed it, but because she saw an opportunity to get a scholarship. With her commitment to make her own way, she was able to get a scholarship to the University of Mississippi, which allowed her to leave Bowling Green. She had a desire to take in as much as she could at a young age and she wanted to explore other places. This led her to pursue her graduate studies in art at the University of South Florida. These studies were made possible by another scholarship. "I continued to run track at South Florida," Andee explains, "because I was poor and needed the money. They had a huge art department, and while I was there, I started building out theater sets and doing murals. I also started painting outside because it's so easy to do in the hotter weather." 
After leaving college, she bounced around wanting to see new places and learn new things. While she continued painting murals, she experimented with different kinds of jobs upon leaving college. She worked at a horse farm in Kentucky, she worked in a bakery, and she painted outdoor park murals for Opryland.
She explains, "They would lock me in the park all night long, and I would paint on glass, on wood, and on concrete around the park. I wore rollerblades, so I could move around the park fast with headphones on listening to books on tape."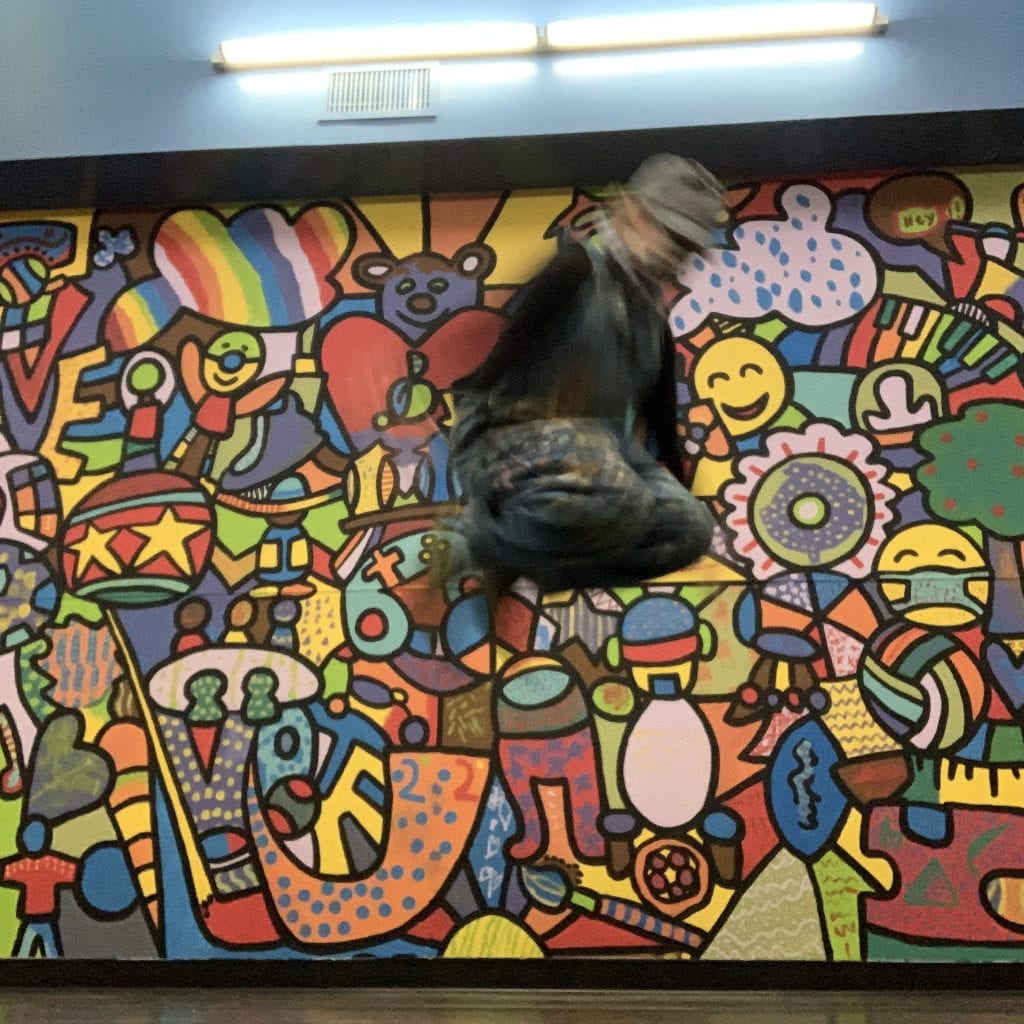 Andee then headed out to Corona Del Mar in Southern California, where she converted a friend's small garage into her home.
She recalls, "At that age, I kept thinking time is short and now is the time for me to explore new places. I had been working at a horse farm, so I thought I could make anything work. I got a job as a barista while working as a registrar with the Newport Harbor Art Museum, which was merging its museum with the Laguna Beach Art Museum in Orange County." Her time working at the museum allowed her to learn how to prep, check the condition of the art, and learn more about how museums operated.
When Andee left California, she came back to Nashville, where she felt the cost of living made life easier to live. She wasn't excited at first because it felt so quiet and slow, but her previous connections and knowledge allowed her to network and grow. "I have always had an infectious energy for whatever I am doing and I love being a part of a group," she states.
Andee found her place in Nashville in 2005, when she was hired as the BNA Art curator. While taking on the challenge of changing and developing the program, she was introduced to the corporate art world. Unfortunately, at the same time, her mom was diagnosed with brain cancer. During that difficult time she was her mother's caretaker, while trying to maintain her new position. Needless to say, her life was full of some very difficult challenges.
Andee admits, "Nashville has been a tough road, but [it] has been quite good to me. It has offered me all kinds of roles, not just as an artist, but as a curator to organize engagement and exhibitions—which has connected me to a lot of other people. That has been really key to what I do now."

In the past several years, Nashville has become a talking point nationally for its painted murals. In 2012, artist Adrien Saporiti began the "I Believe In Nashville" painted mural series. The street art movement picked up momentum a few years later with the Nashville Walls Project and their most notable mural in the Nations created by internationally recognized Australian artist Guido Van Helten. Today, there are well over 70 murals throughout the city, and that number continues to grow. Many of these murals have become hotspots for tourists and locals, where lines of people wait for their group or selfie photo opportunities for social media sharing.
As an artist, Andee enjoys the process of entertaining other people with the way she thinks. Her goal is to pass on her knowledge to future artists and help others understand the industry. "I really do try to remember that I have a real opportunity to pass the baton," Andee states. "Keith Haring didn't get that opportunity because his life was cut short. I want to be part of why the next person and the next person is a painter."
Andee's marketing efforts revolve around networking and word of mouth. Her painting style and use of color fit well with her base clientele. She says, "I have a history with schools, and I have a lot of them currently reaching out to me. With Covid, schools are trying to figure out how to engage students safely. So I have a couple lined up to do work soon. I also love doing work with small businesses. They want you to show up on time and get the job done, and I have that same work ethic."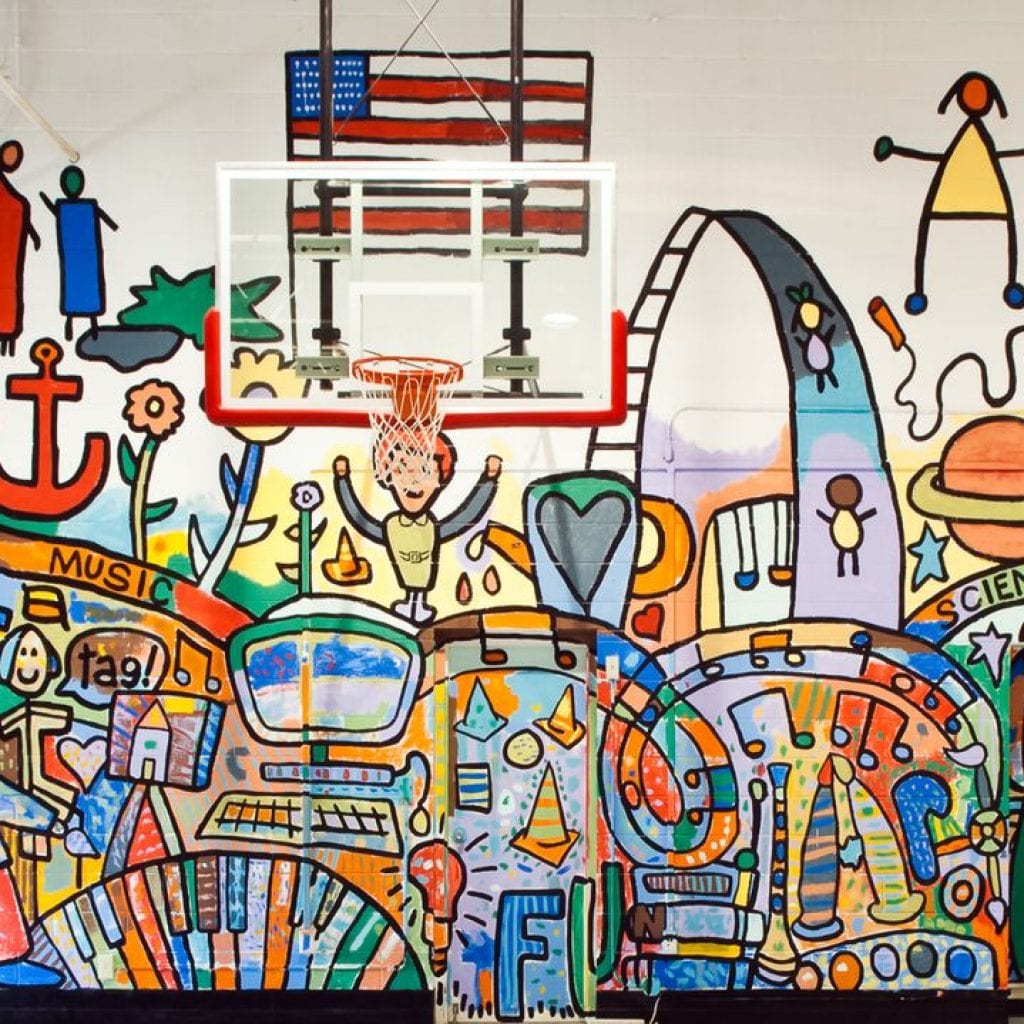 Andee tries to share photos of her working consistently through all forms of social media, but she acknowledges the challenge of staying engaged with her audience. "Social media is about engagement," she muses. "Can you post something and still be ready to respond as well as post opportunities other than just posting about yourself? I am trying to show I am busy and able to work, but there is also a need to maintain a relationship with clients that you value from years ago in my past. The nature of the work I do allows me to really get to know people on a very personal level. So most of my comments have a deeper connection than what some may think."
Andee confesses that she has to be aware of her back side as she is working because that is what people see when she is on a ladder or scaffolding. For years, her struggle over the proper choice of clothing while working—especially with kids in the schools—was an issue, so she decided on overalls. "I realized that what I wear is also a part of my job," she explains. "I didn't want to constantly worry about pulling my shirt down, pulling my pants up or if the kids wanted to wipe their hands on me. I needed clothing that was functional for my painting environment. So a couple of years ago, I picked up a pair of Liberty overalls, because I figured I would not have to worry about bending over while I am working."
She began sharing photos of her working while wearing the overalls. Not long after, she received a call from Liberty asking for her size and was told someone wanted to buy her more overalls as a gift. She later received a letter from the owner of Liberty and a box of the overalls thanking her for wearing their product. They have become a part of her public image.
Andee's clients include Metro Nashville Public Schools, Metro Parks, Pie Queen of BG, Boyce General Store, Celebrate Nashville, Green Fleet Bikes, Kentucky Arts Council, Tanne Foundation, Southern Kentucky Performing Arts Center (SKyPAC), Nashville Sister Cities, Gifted Studies at WKU, and Hillsboro Village, among many others.
Covid-19 has obviously affected all working artists and stifled creativity. Andee tells Launch Engine that it has been a struggle for her as well. Artists rely on social and community events to bring exposure to their creations, and the reality is that we don't know when or if we will be able to get back to larger gatherings any time soon. Andee finds that running and paddle boarding allow her to clear mental space for new energy and provide balance to move forward.
When it comes to spending money on materials, repurposing and reusing materials is very important to Andee. She explains, "I have a comfort level with asking others if they have materials they are throwing away. Sometimes when I am working on a job site, it is mind-blowing how much waste there is! So I take advantage of those jobs. I save leftover paint and materials from being thrown away and reuse whatever I can."
Andee's main goal with her mural career is to continue to paint as long as she is able-bodied and capable of doing so. She also wants to be an advocate for public art and is passionate about the need for art in our communities. While she isn't sure how that will unfold, she plans to create her own new path as she grows older. She shares, "My hope is as this all plays out, I want to educate other painters of their value as painters—not only be able to live as an artist but to vitalize our communities in the process. There is something bigger than ourselves. I don't just see murals, I see everything from commissioned work to sign painting."
One thing is certain, the positive attitude and exuberant energy Andee Rudloff puts out into the world is infused into her murals with her unique style. Once you see her work you will easily be able to recognize her murals anywhere!
For further information about Andee Rudloff, be sure to visit her website and social media.