As one of the fastest-growing cities in the country, Murfreesboro, the home of Middle Tennessee State University (MTSU), is not typically a place one would think of when it comes to art. The city has a colorful historical background of American Civil War history and locations associated with those events to visit. In addition, the Stones River Greenway system offers a beautiful area to enjoy nature, water, and hiking trails for the outdoor enthusiast. Other community interests in the city include education, sports, food, and shopping. Over the years, the historic downtown area has shown new growth and offers a place where the community can walk, bike, shop, eat, and listen to music.
On September 10, 2020, the soft opening of Church Street Gallery offered something new and unique to Murfreesboro's art entertainment sector. The Church Street Gallery presents a venue for traditional art and artisan-crafted work by university-trained, established, and well-recognized artists from around the country. The gallery offers diverse 2d and 3d pieces, glass, wood, clay, sculpture, artisan, and traditional works. Items for sale are offered in a wide range of price points to encourage art collectors of all socioeconomic levels. The work includes not only fine art pieces, but also art that can be used around the home and art that can be worn as clothing.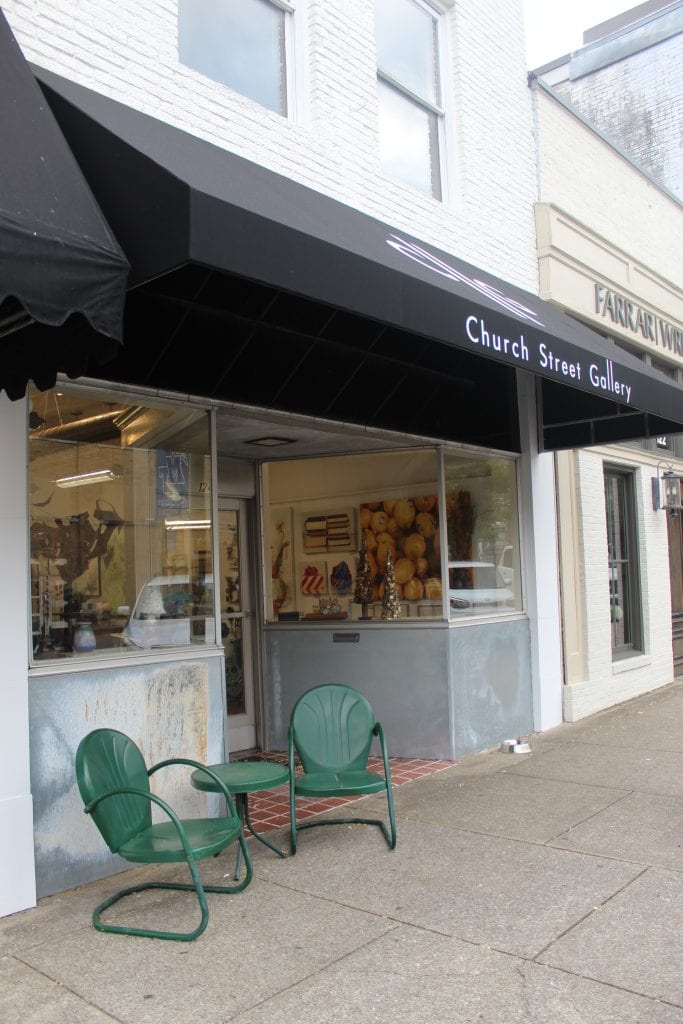 The gallery is located at 124 North Church Street, in Murfreesboro and backs up to a local hidden artistic gem locals call "Graffiti Alley." This is an area where most of the building owners have embraced graffiti as an art form and allow it to stay as long as it is tasteful. The graffiti on public display changes all the time and adds a little culture to the area. Co-operator and artist Mary Miller Veazie explains, "Graffiti Alley is a little pocket of grass, enclosed all around by all these old buildings and people have been painting graffiti on the walls for years. Apparently, people come and shoot photos of brides and graduates. It is located in the back of our building, and we hope we can at some point have shows and events back there as well."
The building is owned by Maredith Clayton Metier, daughter of Judge Jim Clayton. Jim was an office manager for his family's Personal Loan and Investment Company that started in the 1940s at the Church Street location. When his daughter Maredith Clayton Metier inherited the building after his passing, she opened her CPA business in the back and wanted to use the front of the building to add to the history of the square. Earlier this summer—in the midst of COVID-19—Maredith decided she wanted to create an art experience for the community. She felt a passion to do something the public would enjoy with the downtown square. She decided an art gallery would help in the revitalization of the historical downtown area and Church Street Gallery was conceived.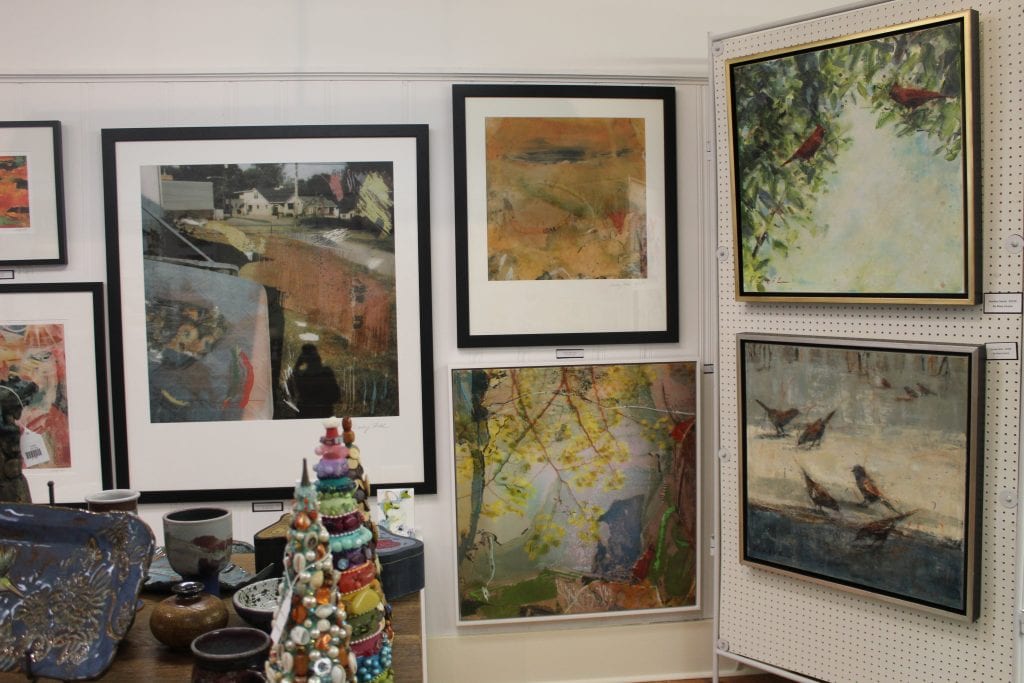 Maredith first approached her lifelong friend and artist, Mary Miller Veazie. Mary acknowledges the close bond she has with Maredith from childhood, saying, "Our family goes way back from our parents to grandparents being dear friends. She has been a supporter of my artwork, and she knows that I have a connection with a lot of professional artists, artisans, and communities."

Mary is a recognized artist who works in watercolor, oil, and acrylics. Over the years, she has worked with Bennett Gallery in Nashville and Ann Irwin Gallery in Atlanta. Meredith believed her experience would be useful in finding established artists and helping with the collection and organization of work.
Eric Snyder was also brought onto the team. He was instrumental in connecting with the public as well as helping with the coordination and marketing of the gallery. Eric is an established artist and co-owner with his father of Studio S Pottery. He is also the Gallery Coordinator for MTSU's Todd Art Gallery. His father, Lewis, is a master potter. Together, their background includes gallery exhibitions, symposiums, festivals, and restorations. His connection to the community and experience as an artist and gallery coordinator makes him a great fit for the team.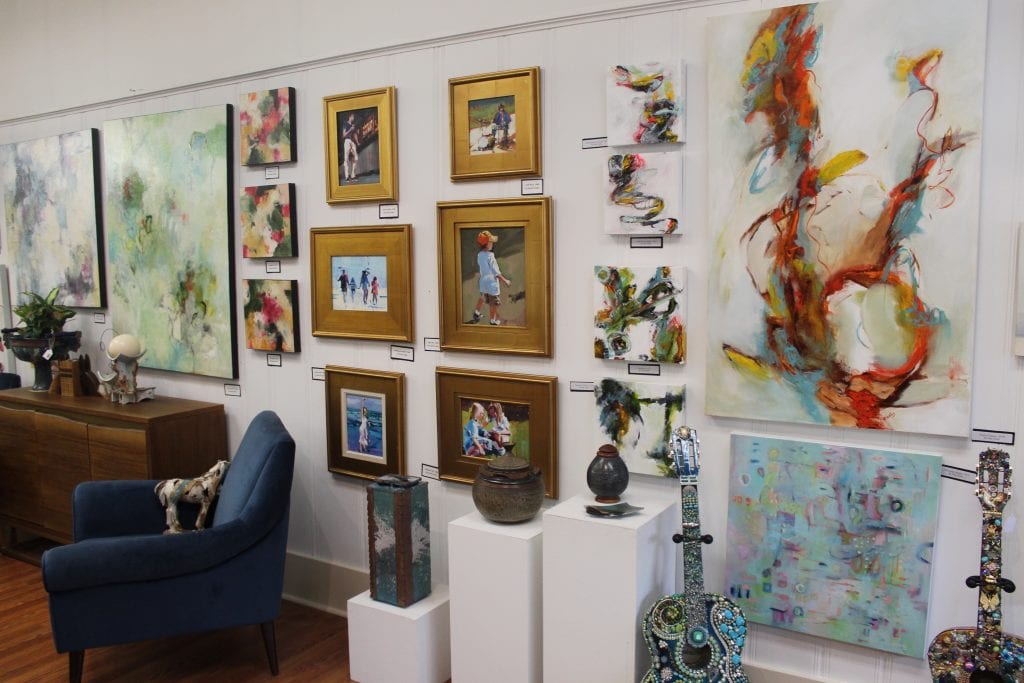 Maredith uses her CPA background to handle all of the business, finance, point of sales, and accounting aspects and oversee the gallery operations.
The team at the Church Street Gallery has been working hard to renovate the space. They have reached out to their hand-picked artists and organized and displayed the art in the gallery that is now open. They announced on Facebook, Instagram, and Twitter their soft opening on September 10th to open their doors to the public officially. Currently, they have ten painters, two clay artists, three jewelers, one sculptor, one glass, one wood, and one mixed media artist. Each artist has been selected to satisfy their desire to display a wide range of artistic works. Mary feels it is time for an art gallery like this and that Murfreesboro is ready to support such a venue because of the growth, renovation, and restoration in the area. She feels the strong collection they have built is the key ingredient to their success.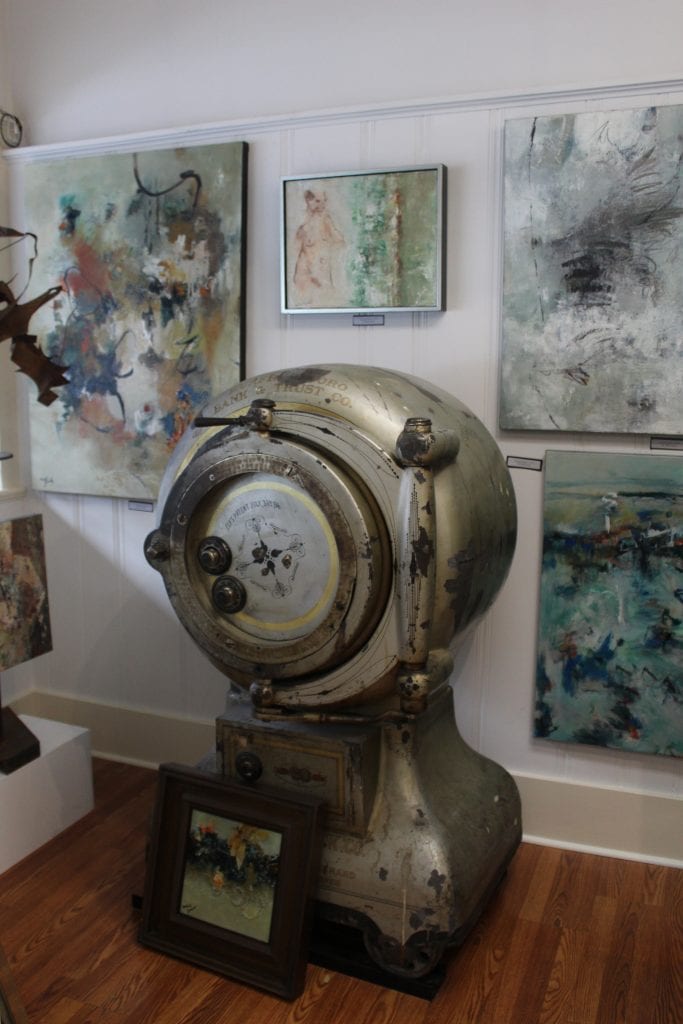 "We have had great success from the locals who have visited so far," Mary explains. "Everyone who has walked in our space so far says this is what was missing. When they walk in, their faces light up with a smile. They say we have needed a space like this downtown for the longest time. Since it is not just art that you hang on the wall, we can appeal to a broader range of art collectors. It allows for a unique experience—and possibly a great fit for a special gift. We feel we are giving people an opportunity to take something artistically unique home with them."
The team at Church Street Gallery is still working on the website that will eventually include more gallery details, information about the artists, and the art pieces themselves. They are hoping to do a grand opening in early December, but that will depend on whether or not larger crowds are allowed by COVID CDC guidelines. They eventually would like to showcase immersive artistic projects such as room design with interactive work that can be touched, pushed, and pulled, combined with film and theater techniques to generate a more immersive experience. The blood, sweat, and tears they've poured into this project show in the variety of work and the ambiance of the Gallery. The team is excited about where their efforts will lead them moving forward.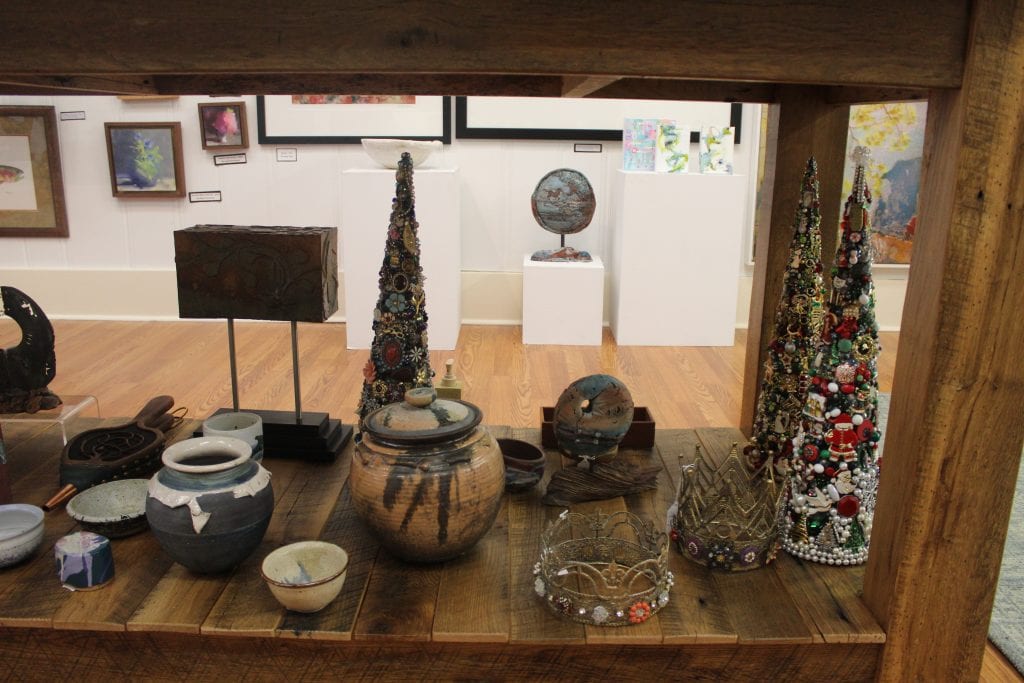 In the future, they hope to have invitational group shows, openings, and events. They hope to partner with local schools to offer field trips, artist demos—and eventually workshops. They want to connect with the Rutherford County Chamber of Commerce and Visitors Center to share the experience and history of the area. This new art gallery looks to be a perfect fit for the revitalized downtown culture of Murfreesboro.
For further information about the Church Street Gallery, be sure to visit its website site and social media.