On a resume, a job applicant is defined by their education/ training, level of skills and experience. However, when it comes to the technology job market in Nashville, who is helping applicants stand out against other potential hires? And what skills are applicants being asked to master if they're looking for fulfilling employment?
In Middle Tennessee, an important player in feeding new talent to the technology job market is the Nashville Software School (NSS). According to founder John Wark, the NSS "is a Nashville-based nonprofit vocational training school that specializes in tech careers." John tells Launch Engine readers, "Our whole reason for existence is to provide adults with motivation and aptitude an on-ramp to a set of specified tech careers."
John shares that initially, NSS was focused on web and software development, and that the school has broadened its curricula to include data analytics and an IT infrastructure program that they're operating in cooperation with the Nashville Technology Council (NTC) Apprenti TN apprenticeship program.
"We're all about either finding a career if you've just not found one yet or a change of career if the old career either doesn't fit anymore or you're 'topped out,'" John explains. "We have students from all kinds of backgrounds."
NSS was founded in June 2012, which also marks their first official class. John shares that about 1200 students have graduated from NSS, ready to enter Middle Tennessee's tech workforce by accepting a desirable position with any one of 300 plus employers of various sizes in the region. On average, NSS graduates students from a program every six weeks, giving them the software skills they need to pursue bigger and better things.
For those comparing something like NSS to other educational options, the level of oversight to which NSS adheres is not the same as a college, as they grant certifications in skills versus degrees in concentrations of learning.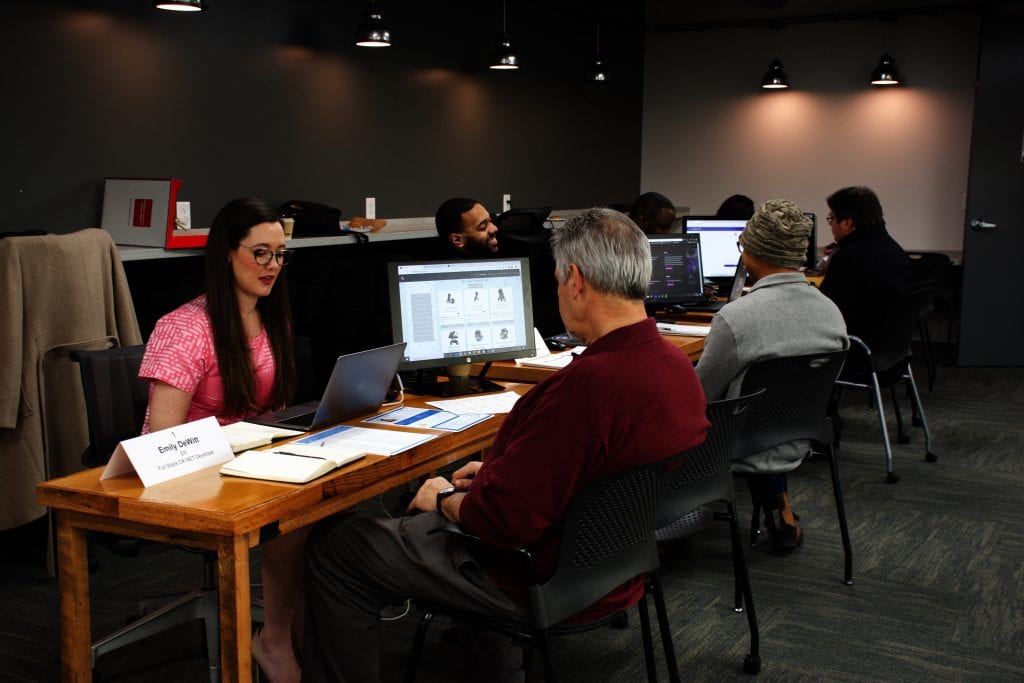 Be that as it may, the school does have to maintain transparency with its effectiveness in helping those enrolled. John says, "We've historically had graduate placement rates—in other words, graduates taking the skills that they learn at NSS, and finding a job where they could use those skills in tech—in the high 80 percent to low 90 percent range. We are an approved post-secondary school by the Tennessee Higher Education Commission. So, that outcome and placement data is actually… we have to report every year our student outcomes… Did they get jobs? Did they get placed?"
Being a leaner model than the four-year university route means that NSS can help save students the additional costs that colleges, universities, and other schools or entities might pass along to their student body. As they have less overhead costs themselves, they don't have to worry about trying to save less popular programs. Much of the desire to be a smaller model comes from John's personal history as a tech startup veteran, with NSS being his sixth startup venture. Having raised $30 million in venture capital for one of the startups, and then subsequently taking that company public, NSS is a welcome change of pace for him that means less stress. From his investment of time into growing NSS, one could infer that he's more rewarded by helping people than by padding his bank account.
Building on the topic of growth for NSS, the school has evolved at the same pace as the Middle Tennessee tech scene. John says, "Based on the Nashville job market, our philosophy has always been: 'We're trying to help Nashvillians start a career in Nashville.' That gives us also a great platform then for working with employers." NSS helps startups, growing tech companies, and established companies find the talent that they need.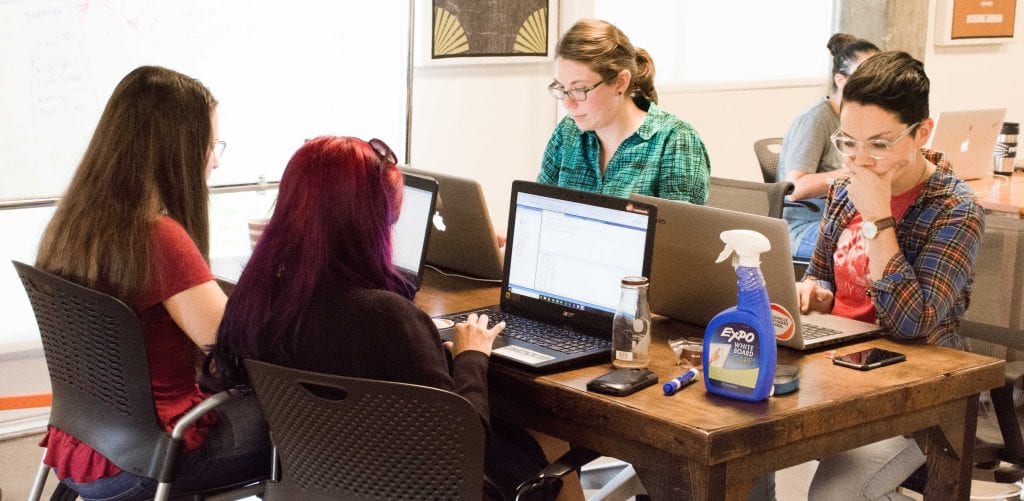 John says, "We've [worked pretty well] with a cross-section of… all the types of companies that hire. We've got some of the big companies in town now that have hired at least a couple of dozen of NSS grads over the last eight years."
To honor NSS's mission of bringing tech talent to the Nashville workforce pool, the school tries to eliminate economic barriers to entry. This is achieved through the creation of a more flexible means of enrollment that they can only offer as a nonprofit.
"We've actually got something that we call the 'Opportunity Tuition.' About half of our students are on the Opportunity Tuition, and it is a way to not have to pay us full tuition up front. So, our programs have different costs: from $7,500 up to $12,500. Depends on the program. The Opportunity Tuition allows a student to pay us [via deferred payment]. Let's say they're in the Web Development program. So, instead of paying us $12,500, they pay us $1,500, if we select them. We give them a $2,500 scholarship and the $8,500 balance isn't owed until they graduate and get a job. Then, we just work out a payment plan… it's really a way for them to pay forward to the next set of Opportunity Tuition students."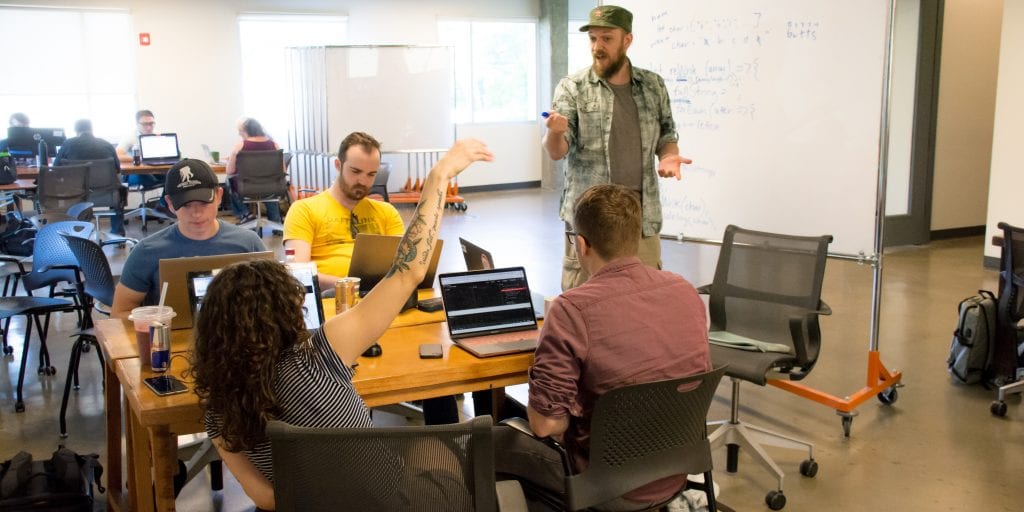 John says that the Opportunity Tuition is pivotal to NSS, as a lot of students of NSS may already have substantial student loan debt or come from economically-disadvantaged backgrounds. It's also a part of their objective to get better representation for other demographics in that tech scene. Clearing the way for people interested in such careers that implement technology means getting away from the stereotypical images of Caucasian males and South-Asian males. Aside from gender and race, there are also different backgrounds that don't get represented in tech. John shares that veterans, for instance, are part of a tiny population of people learning the skills NSS teaches.
"So many people that come out of our minority communities don't even see tech as a potential career field for them, right? They don't get introduced to it in school as well, maybe. Or they don't have role models in their own life that see this as a potential outcome."
John refers to what he calls "a clear need" to get more people in general into tech-based jobs, as pre-COVID 19, there was a rapidly exploding job market in Nashville, which he expects to return after the pandemic has calmed. "We're going to help support the growth of the Nashville tech market," John says. "Which is kind of the… goal."
Presently, NSS is doing 16 classes a year by way of six different programs to cover what John sees as, "the biggest types of tech careers in Nashville." John states, "Software development and, sort-of, data analytics in a broad sense are the two biggest sources of tech jobs in Nashville." John further states that the number of jobs—and need for talent in these vocational brackets—is backed up by data from both the NTC and Middle Tennessee State University (MTSU)'s third year of job employment trends for the city.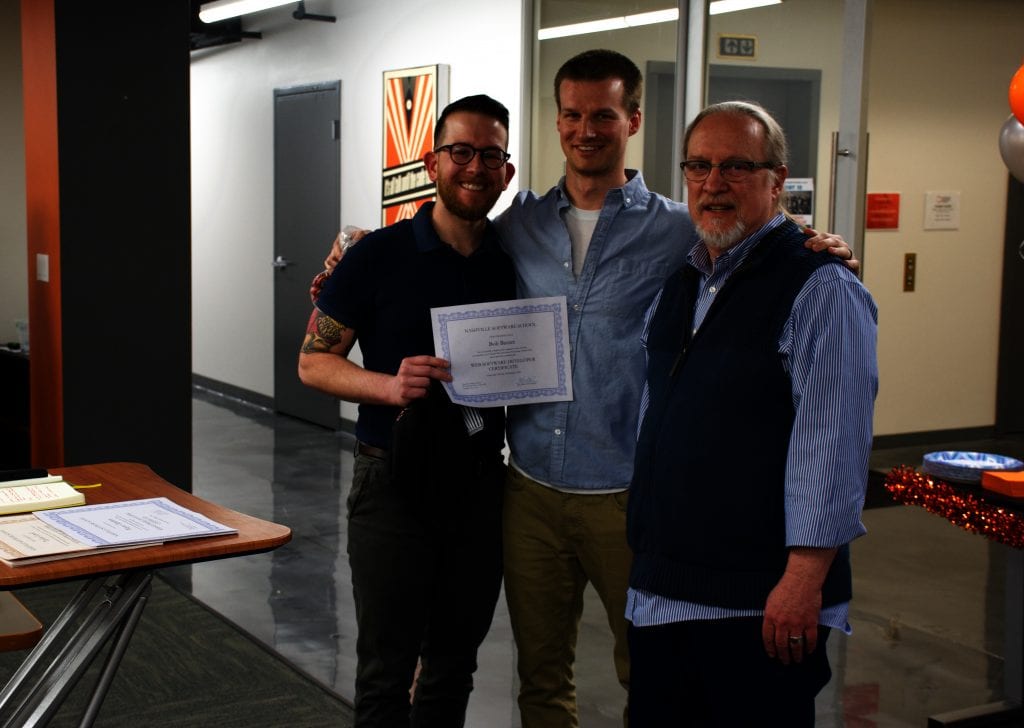 In John's experience, many people don't know that they might have an aptitude or an interest in tech. That's why NSS has two programs for people who want to play in the realms of Web Development and Analytics. These "Jumpstart" programs are low-cost career exploration opportunities of nine class sessions each. They allow users to explore topics like HTML5, JavaScript, Python, SQL, deployment of developed projects, and data visualization and storytelling over a period of three weeks. Even though Nashville has its own specific preferences for tech talent, much of the skills learned through NSS can provide the necessary foundation for a student to acquire jobs in other tech hubs like New York or San Francisco.
"There's a set of hard skills. There's a set of specific technical skills or tools to be hired as a junior developer, you gotta know a programming language or two. It's good if you know some front end and some server-side development…", John says. He points out that there are also soft skills not related to technical capabilities (like communication and teamwork) that need to be learned as well.
To be successful in a tech job, John explains that people need to consider how they're going to round out a potential team. "Most of us work in teams," he says. "With people from different skill backgrounds; designers, developers, all kinds, right? And people with different levels of experience. You gotta know how to do that."
To help them get on the right track, recruiters who've partnered with NSS will guide the students, even holding mock interview events or an ongoing discussion with NSS grads to help them get to where they need to be.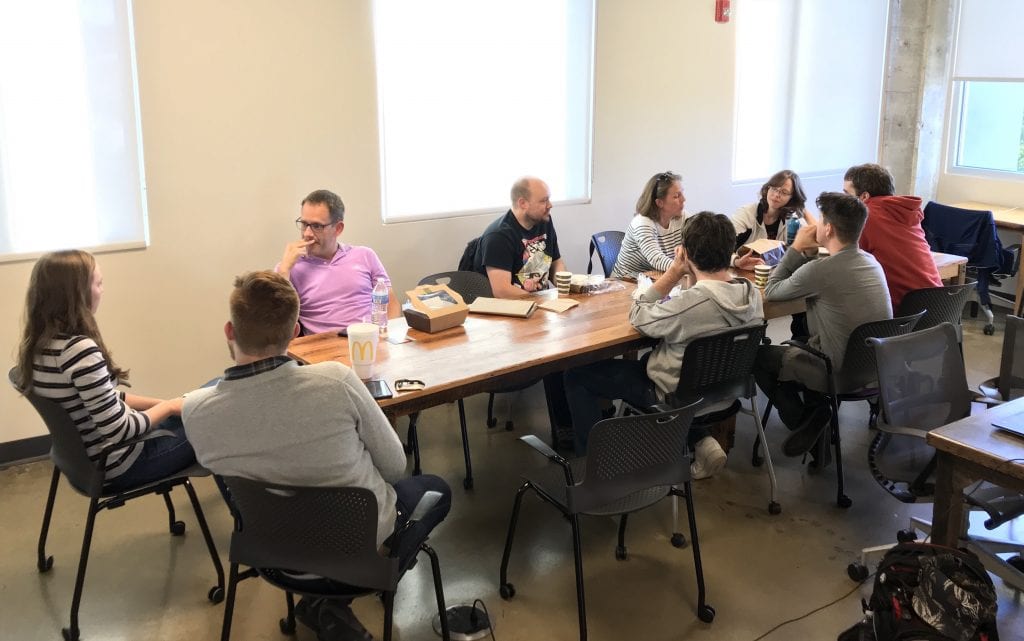 For NSS's programs, that means teaching people to code in groups instead of the university method of lecturing about the academic theory of coding computer software. This actually comes from the input given to NSS from many different companies with offices here in Nashville. Of course, due to the current pandemic, all of their in-person learning has gone remote, but that hasn't been a huge difference for NSS students. As they're in a synchronous, online classroom learning, John states that it's "pretty much like we were able to do it in person."
"We've been surprised by how well we've been able to replicate the learning experience," he says. "Because we haven't changed our curriculum. They've still got to learn the same skills… we have not had to cancel any of our programs. We've spent a lot of time tweaking as we go; learning how to deliver the online experience effectively."
Coincidentally, as more development jobs go remote, the need for online learning has actually given NSS grads a taste of what to expect if they're working from home. John jokes that NSS missed the obvious relevance of remote learning, saying, "There's a pretty high percentage of tech jobs that are remote jobs anyways. Or at least part-time remote, if not full-time remote. And all of the studies I have seen out of the tech industry at least say that even when the coronavirus ends, the percentage of tech workforce that's going to be working remote is going to be at least double what it was before. So that skill in terms of 'How do we work together on a project when I'm in Nashville and you're in Seattle?', or, you know, wherever, that's an important skill."
As NSS becomes more aware of the future details surrounding remote work potential, the minor changes that they make to their curriculum will reflect the societal shift to a digital workplace.NSS is continuing their remote classes and operations through 2020. For further information about NSS, including details on their programs, classes, the NSS blogs, and events that the school has planned, be sure to visit their website and social media.