The photography exhibit "EYE CONTACT" will have its opening night Tuesday, July 20, from 4 p.m. – 6 p.m. Featuring previously unseen images of music artists, the show will run through July 27 at the Virgin Hotels Commons Club. Put together by the Give A Note Foundation as part of a Summer Happy Hour series, the event is free and open to the public, with a portion of all proceeds from "EYE CONTACT" sales—and from the Sedona Sunrise signature cocktail—going to benefit Give A Note's public schools music education in grades K-12. VaultWorks and Duggal Visual Solutions will be presenting the event, which will feature live swing music and a DJ.
"EYE CONTACT" features some 20 never-before-seen and rare photographs of music icons ranging from Justin Timberlake and Jay-Z to Amy Winehouse and A$AP Rocky captured by three noted British photographers. Many of the photographs – outtakes and never-before-seen shots – date back to the 80s, 90s and early 2000s, often capturing the artists in their formative years before their fame and cultural impact were fully realized. One arresting example is Amy Winehouse at her first photo session (2003) predating her debut album and without her signature eyeliner.
Managing Director of Valutworks Dipesh Sinha tells Launch Engine, "EYE CONTACT is an exhibition of rare and unseen photography of the world's biggest music icons and the stories behind the images. It's also a show about re-connecting and re-engaging. Re-connecting with friends, collaborators; everyone we haven't had a chance to share in-person experiences with and to have something stimulating to look at and talk about. It's also about re-engaging with art, music, culture, and everything we've been deprived of the last 16 months or so."
The exhibit opened in New York, with additional stops in Los Angeles and London. Dipesh says, "Nashville was also important to us because it has a storied history as one of the world's greatest music cities. It makes complete sense to bring this collection to a place where the images and stories behind the music will be really appreciated by such rabid fans." Dipesh expresses that bringing the event to Nashville "has been a great opportunity to partner up with Give A Note, whose mission of music education in the schools we care deeply about."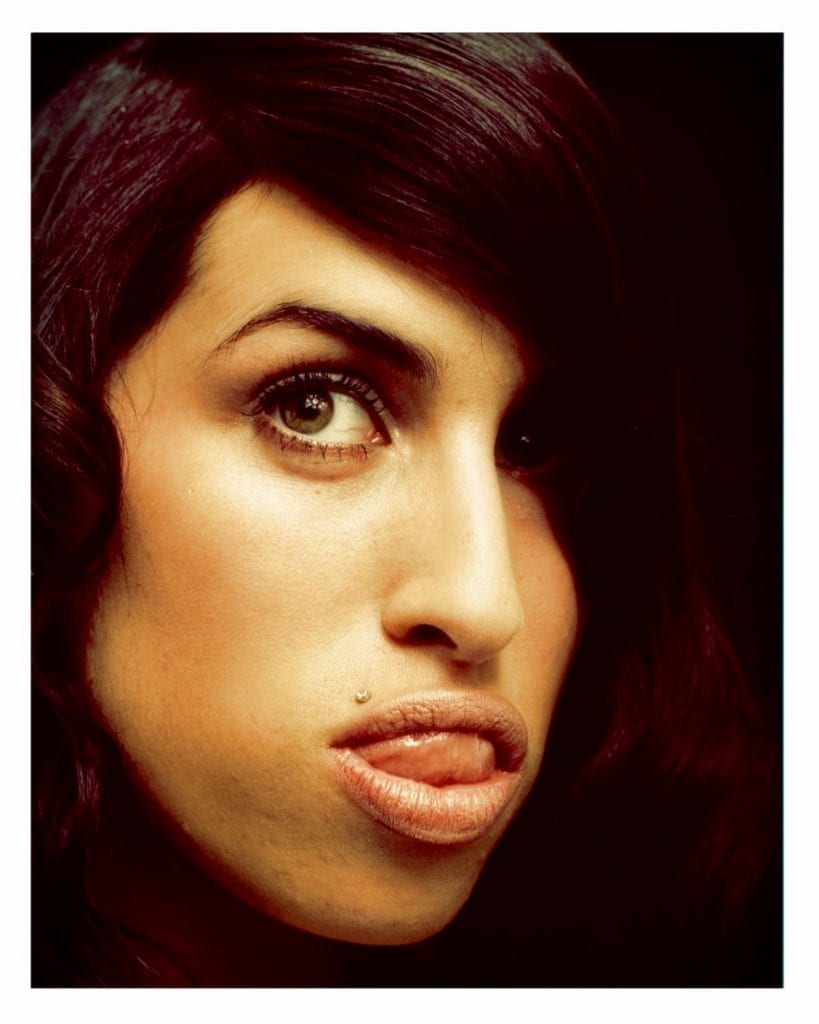 "EYE CONTACT" photographers are Tim Bret-Day, Phil Knott and Derrick Santini, three lensmen noted for their unique ability to capture iconic images of music personalities and pop culture figures. All three photographers have been exhibited in major galleries and have illustrious careers shooting in the sectors of fashion, culture, advertising and, as compellingly demonstrated in this exhibition, music.

The name of the exhibit "EYE CONTACT" is highly relevant today, says VaultWorks co-founder Anik Sood. "'EYE CONTACT' speaks to the way the pandemic has compelled us to interact – through our eyes, the only exposed part of our face. It also refers to the opportunity the exhibition gives to once again see people and to re-engage in celebrating the arts and culture we've missed over the past 15 months."

"EYE CONTACT" opened at New York City's Equity Gallery July 14-18, before traveling to the Virgin Hotels Nashville July 20-27 with a VIP opening event (7/20) in the Commons Club in conjunction with Give A Note Foundation. Los Angeles is set for October 7-10 at the Sportie LA Pop Up Gallery. A London stop is also in the works for Fall. Each exhibition will feature a curated core group of 14 photographs augmented by a selection of images specifically tailored to each city. Duggal Visual Solutions has produced all the works in the exhibition.

Dipesh says VaultWorks revels in the act of discovery. "When we dig into our photographers' archives and unearth long-lost images or artifacts of significant moments of cultural history, there's a real kid-on-Christmas-morning feeling. And then to figure out how to share what we've found with the world in a meaningful way, to perpetuate that feeling of discovery and inspire more curiosity, that's really exciting."

He adds, "Essentially, VaultWorks is all about discovering what's in these amazing archives we track down, finding a meaningful way to package these stories to share with the world, and preserving what we unearth for the future."

# # #


Give A Note Foundation's Summer Happy Hour Series in partnership with Virgin Hotels Nashville kicked off June 22 and will continue every Tuesday from 4 p.m. -6 p.m. CDT in the Virgin Hotels Nashville Commons Club through September. Featured talent and programming will vary every week and highlight the importance of music education as we sip and celebrate a diverse group of talented artists with the Nashville community. A portion of sales of a signature cocktail, the Sedona Sunrise, will go to benefit Give A Note's music education in K-12 public schools.
To learn more about Give A Note and support music education, please visit www.giveanote.org.

About the Photographers:
Tim Bret-Day is a Londoner, starting out as a member of the paparazzi before changing direction and going to college. After assisting in the top-flight of the fashion world he embarked on a solo career which led to him working for all the top fashion magazines. A change in direction meant following a freer and more creative style which led to him shooting top agency work all over the world, such as Nike, Mercedes, Agent Provocateur, Harvey Nichols, Virgin, to name but a few. He is currently working on a book covering his illustrious career in photography.

Phil Knott is a British-born, L.A.-based photographer Phil Knott has been producing images for over 15 years. Rich in content and creativity, Phil presents a style that is beautiful, soulful, and honest in its capacity to extract what is raw from his subjects. Knott has established a niche for himself, attracting a wide range of clients including Paramount Pictures, Stussy, Versace Sport and Fragrance, Sony Records, RCA, Atlantic, Universal, EMI, Steve Madden, Hennessy, Afro-Punk, and 81 Magazine. Five years ago, Phil added his unique approach to collage to his repertoire and has produced work for Stussy, Bathing Ape, Roc-a-Fella, The Face, Spin, Complex, and Flaunt. Phil Knott is behind the seminal images of a galaxy of music stars, from Prince and Liam Gallagher to Amy Winehouse and Erykah Badu.

Derrick Santini hails from Scarborough, North Yorkshire, and discovered his love for photography at the age of thirteen, whilst taking pictures with his mum's old Agfa camera. Derrick spent his teenage years recording everything he saw; initially a silent and passive observer, he came to regard the images he took as slices of life, 'moments in-between', as statements about the individual, society, culture – and ultimately as an expression of the human condition. After this initial period prolific in reportage, Derrick's talent saw him propelled into the fields of portraiture, music photography, fashion, and advertising, where he developed a more confrontational approach to image-making – one based on interaction and personality. He soon became renowned for his intimate and insightful portraiture style, particularly within the music industry where there rapidly became a huge demand for his iconic images.